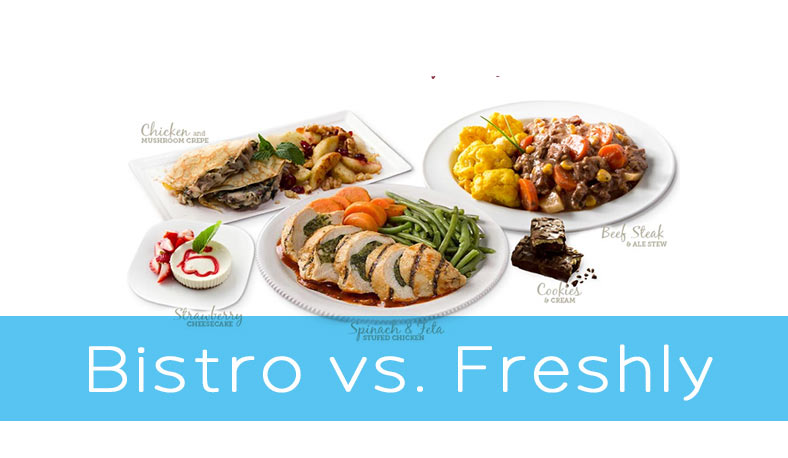 How long can humans survive without food? Do you have a goal of shedding extra weight? Or are you seeking ways to stay healthy?
Without question, the best solution is to eat healthy food. Bistro MD and Freshly Diets are two industries with experienced chefs and nutritionists who will help you eat healthy food. This article will help you peer into their services, and see what you stand to benefit.
Shedding Weight Healthily with Bistro MD
Bistro MD comes to mind when you check the mirror and see the need for shedding weight. They offer you the opportunity to do this without dieting. Below are some of the exceptional things about Bistro MD services that you should know.
Bistro MD deals with the preparation and delivery of weight loss food for all with weight loss goals. It is a general belief that weight loss food is supposed to be bland and boring. Those were in the years when no one knew beyond the basics.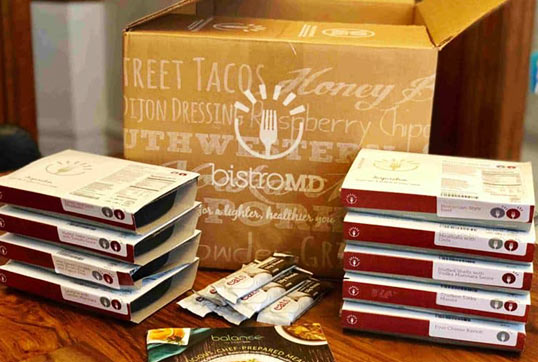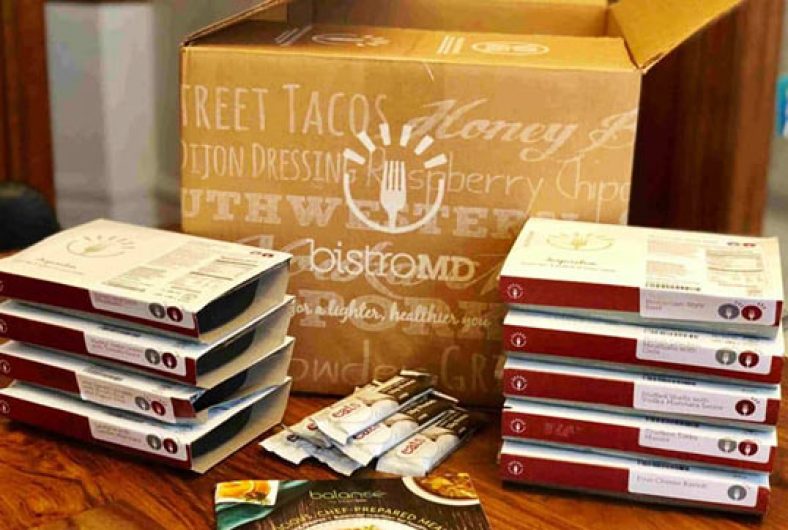 Bistro MD is concerned about preparing healthy meals that are unquestionably delicious for those with weight loss goals. Their weight loss diet features all the essential nutrients you need in a meal. Without sacrificing anything, their foods are carefully prepared and delivered with the sort of quality your body needs.
The meals are freshly made and ready for you to consume as soon as you need them. You don't need to diet to lose weight; their meals are designed to help you lose weight healthily and reasonably.
Bistro focuses on the delivery of highly nutritious weight-loss food. Their meals are specially prepared for different times of the day. You can select their breakfast, lunch, dinner, and snack. Irrespective of the time, you can find meals that will help with your weight loss goal, and still be delicious.
With the help of their expert chefs, there are more than 100 healthy and delicious meals you can explore and order.
---
Quality of Food/Ingredients & Taste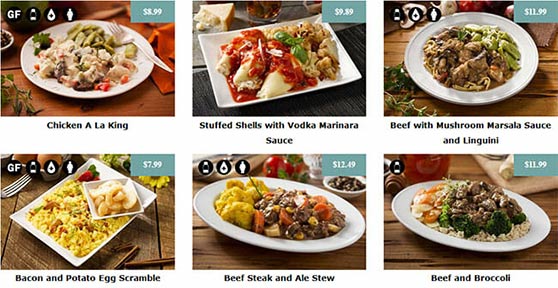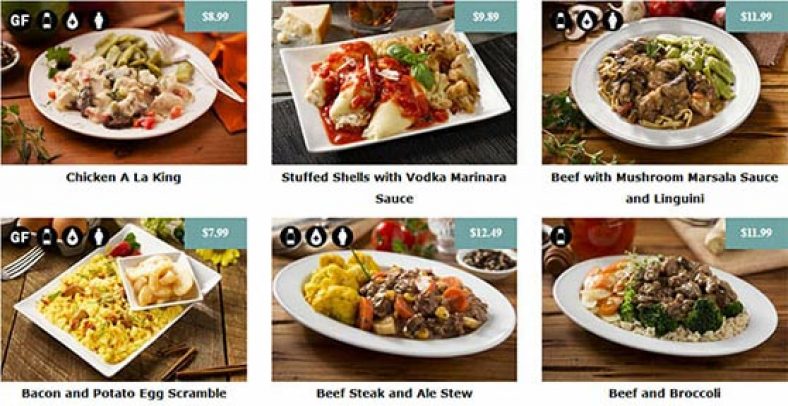 All food from Bistro MD taste delicious, and they are made with ingredients that will help your weight loss goals. For their breakfast meals, some of the available options for breakfast, lunch, and dinner includes:
Breakfast:
Artichoke, Spinach, and Roasted Red Pepper Frittata
Italian Style Omelette
Bagel Sandwich with Egg, Caramelized onions, Mushroom and Swiss
Lunch/Dinner:
Lasagna with Garden Marinara
Salmon with Dill Mustard Sauce
Beef with Red Wine Sauce and Barley
Meatloaf with Honey Bourbon Glaze
Blackened Chicken with Creamy Smoked Paprika Sauce
You can also explore some of their snacks which include:
Salted Caramel Pecan
Nuts About Chocolate
Very Berry Boost
Decadent Chocolate Cherry
Cran-Grape Crunch
The number of calories you get is dependent on the meal you are selecting. If you are selecting the women's standard plan, which includes 3 meals and 2 snacks per day can contain up to 1200 calories. The men's standard plan, which includes 3 meals and 3 snacks per day on an average, has approximately 1400 calories.
Of the calorie content of these meals, it is approximated that 40-45% is made up of Lean Protein. 30-35% is made up of complex carbohydrates, while 20-25% are from healthy fats. In each of the selected meals, there is detailed information about the nutritional values and ingredients.
The preparation process often involves selecting a plan that you desire. This often depends on your dietary preferences and schedule. Upon making your selection, they are delivered to their chefs, who are always on hand to prepare delicious meals.
Upon selecting your preference, Bistro MD dietitians help you create a custom diet program. You can edit and adjust this plan to meet your needs. They are designed for each week; you can adjust the taste and have full control over how healthy you want your meals to be.
There are different types of meals available. As earlier stated, you can select the breakfast, lunch, and dinner plan. But there are customized plans for both males and females.
You can also select their 7 days program (7 breakfast, lunch, and dinner), 5 days program (5 breakfast, lunch, and dinner), or customize the program to meet your needs.
| | |
| --- | --- |
| Women's Program | The Bistro Women's program helps you eat better and feel great. This program features 3 meals and 2 snacks. Many who have tried this program have reported losing up to 50 lbs; yours is not going to be an exception. |
| Men's Program | The Bistro Men's program is designed for successful weight loss. This program features 3 meals and 3 snacks, which are designed to help you lose weight reasonably. |
Bistro MD is prepared and ready to ship to several locations. Bistro MD deliver their meals to the contiguous United State. Orders are shipped through FedEx each week; shipping always comes with a low flat fee of $19.95.
You can also track your delivery through the FedEx tracking number that you will receive upon placing your order.
The programs both for men and women start at $98. The Women's and Men's full program price breakdown was presented as thus; (7 Days – $142.46, and 5 Days – $119.96), the Lunch and Dinners (7 Days – $119.96, and 5 Days – $97.46).
---
Delicious and Healthy Meals at Freshly Diet
Freshly diet is a weekly subscription food that focuses on delivering fresh diets to all its customers. None of the food delivered by Freshly is frozen, as their name depicts, it all stays fresh. In a bid to ensure that you get the best nutrient, meals are carefully worked on by their chefs and nutritionists' team.
You can now eat healthy food free of artificial ingredients and remain healthy all day long.
Freshly diet focuses on delivering healthy Dinner and lunch meals for their customers. Unlike Bistro, their food is not for losing weight. They prepare their meals to help you eat healthy, delicious foods that will help you grow.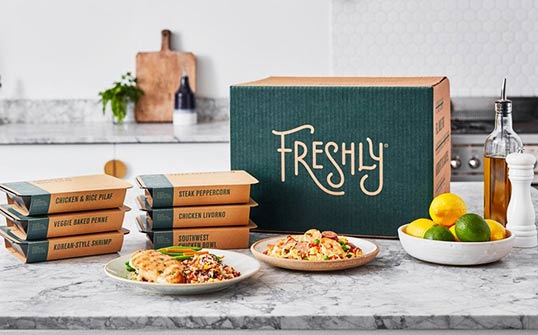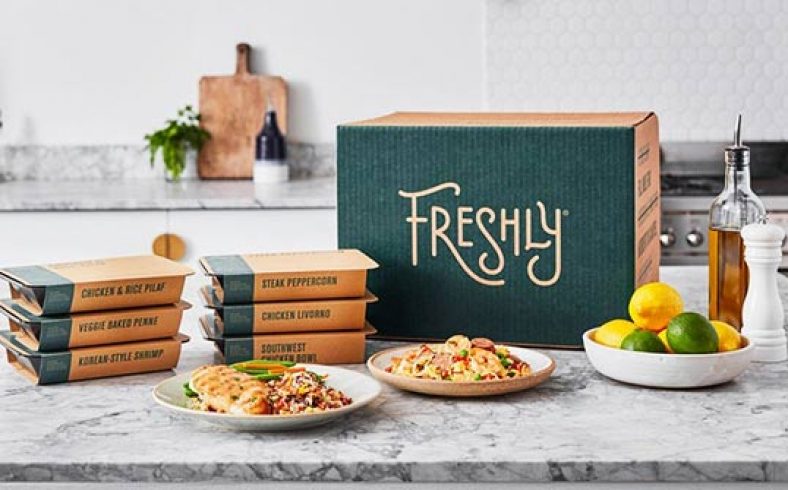 They carefully select natural ingredients with an eye on nutritious meals. Each meal is packed with nutrients, and they are unquestionably delicious.
As of present, freshly only offer Lunch and Dinner for their customers. There are no Breakfast or snack options; they will be delivered in the future. All meals delivered are provided on their menu, and they are nutritious options.
Quality of Food/Ingredients & Taste
To ensure that you get the best out of each dish, several ingredients are used, and this often depends on the meal that is being prepared. Let's see some example of Freshly dishes and their ingredients:
Spaghetti and Meatballs: ingredients include zucchini, tomatoes, parmesan cheese, ground turkey, basil, and sundried tomatoes.
Coconut Curry Chicken Bowl: ingredients include zucchini, chicken breast, red bell pepper, coconut milk, curry powder, and millet.
Chicken Livorno: chicken breast, carrots, great northern beans, kale, tomatoes, and turkey bacon.
Sicilian-Style Chicken Parm: chicken breast, marinara sauce, fresh mozzarella, parmesan cheese, broccoli, and almonds.
Steak Peppercorn: cassava flour, green beans, red tomatoes, carrots, flat iron steak, plain yogurt.
Arroz Con Pollo: chicken breast, green peas, olive oil, smoked paprika, lime, red bell pepper.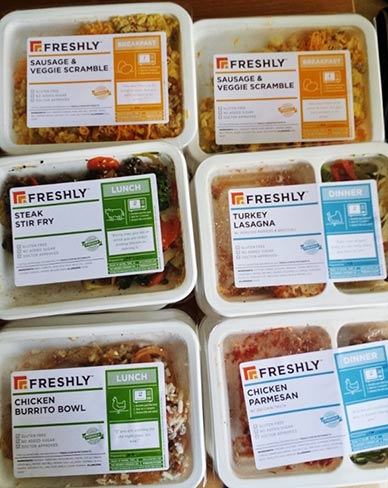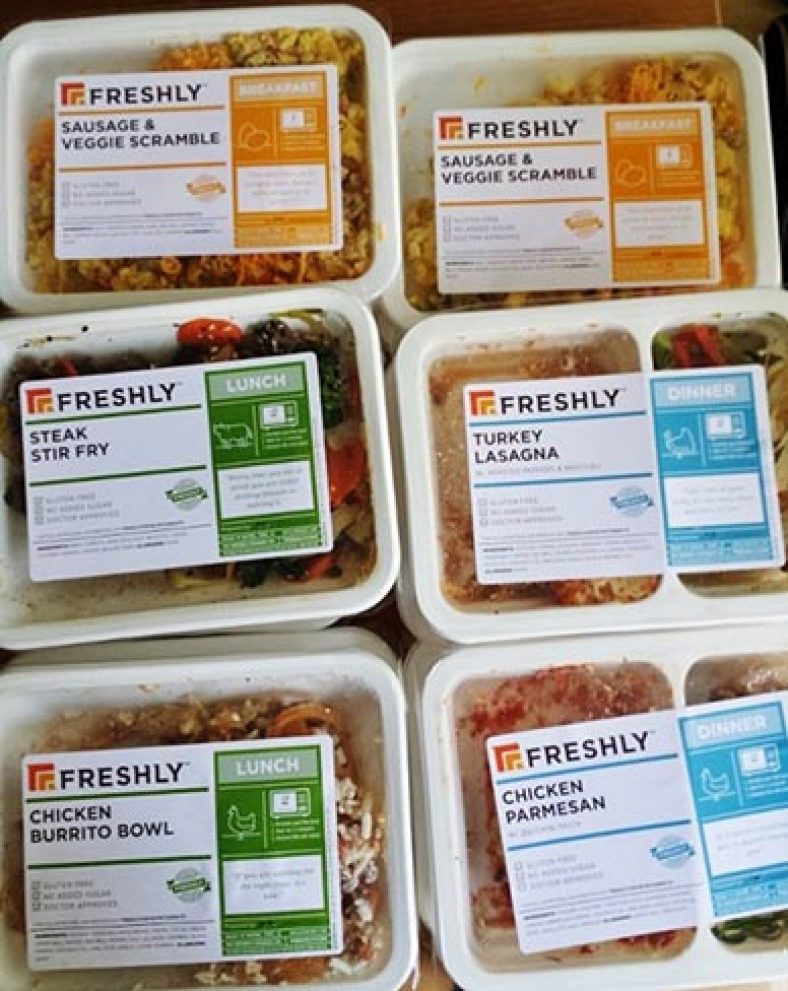 This is a single serving meal that is designed for an average adult. The nutritional content is perfect for you and is designed to help you lose weight reasonably. Freshly diet features 6 meal plans, which is perfect for those looking for 6 dinners or lunches.
On average, each meal weighs about 13 ounces, which is way bigger and better than what others offer. On average, their meals contain about 500 calories. Each of the meal calorie content ranges from 300 to 650 calories. You can get enough meals for larger households.
For the selected dishes above, here are the protein, fat, calories, and carbs content.
Spaghetti and Meatballs have 420 calories, 22g of carbs, 25g total fat, and 31g protein.
Coconut Curry Chicken Bowl has 480 Calories, 65g of Carbs, 12g Total fat, and 28g protein.
Chicken Livorno has 440 calories, 21g of carbs, 17g of total fat, and 39g of protein.
Sicilian-Style Chicken Parm has 430 calories, 17g of carbs, 20g of total fat, and 44g of protein.
Steak Peppercorn has 490 calories, 33g of carbs, 27g of total fat, and 29g of protein.
Arroz Con Pollo has 410 calories, 42g of carbs, 11g of total fat, and 36g of protein.
Your meals are prepared in a big kitchen in Phoenix, Arizona, and Savage, Maryland. To ensure you get the best, they collaborate with top chefs and nutritionists in preparing healthy dishes. Additionally, they make use of quality equipment that is safe for humans.
When your meals are delivered, you are expected to heat them in your microwave. Each meal package comes with sufficient information that will help you heat them the right way. Generally, heating your food is expected to take approximately 3 minutes. Before you eat, ensure the meal reaches at least an inner temperature of 165-degree Fahrenheit.
Freshly deliver single-serving meals that are designed to feed an adult. Their services accommodate dietary preferences. As such you can decide what you want to be included in your meal.
Meals delivered by Freshly are Gluten and Peanut free. This makes them healthier and safer for your eating pleasure. Here is a breakdown of the weekly rotation of 30+ dishes.
Under 500 calories for 20+ meals
Under 35g of carbs for 8 to 10 meals.
Dairy-free dishes for 8 to 10 meals.
Note: Each of these meals is expected to last for 4 to 5 days as they contain zero chemical preservatives.
Your meals are carefully prepared and delivered in the best way possible. Your meals are delivered in the freshest of conditions, that's what you expect of Freshly. To ensure this is accomplished without troubles, you are expected to pay a considerable small shipping fee.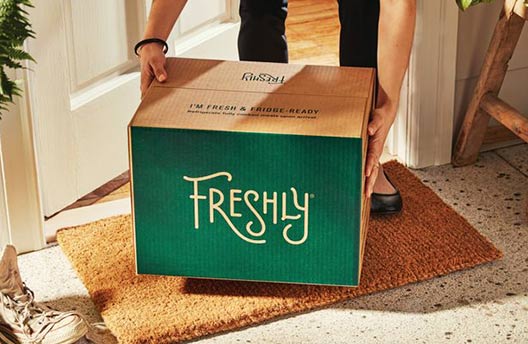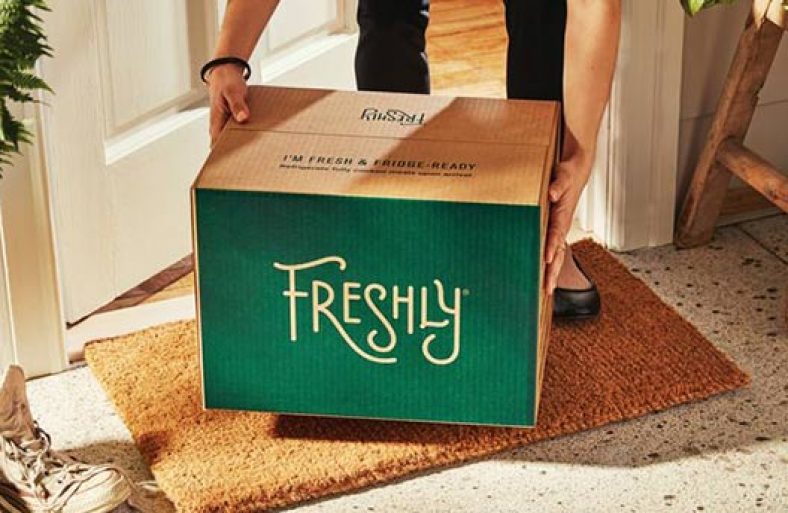 Their orders are delivered within the continental United States, and they are delivered every week of the day. The delivery day will depend on your ZIP code and the carrier delivering the meal.
Freshly delivers their meals at highly affordable prices. Freshly meal plans start at $7.99, and they are delivered in different plan sizes, which include: 4, 6, 9, or 12 meals per week.
12 meals per week starting at $7.99
9 meals per week starting at $8.99
6 meals per week starting at $8.99
4 meals per week starting at @11.50
Diet To Go
Your goals of losing weight healthily can easily be achieved with Diet To Go. With the help of their chefs, they deliver meals weekly, helping you shed weight without dieting.
While they are designed for a different purpose, meals delivered by Bistro MD and Freshly are the best way to help you stay healthy. With Bistro MD, you can shed weight without dieting, but through healthy and nutritious meals.
With Freshly, you have all it takes to eat a healthy lunch and dinner without worrying about artificial ingredients. You can order for Bistro MD or Freshly Diet and enjoy the benefits they deliver.