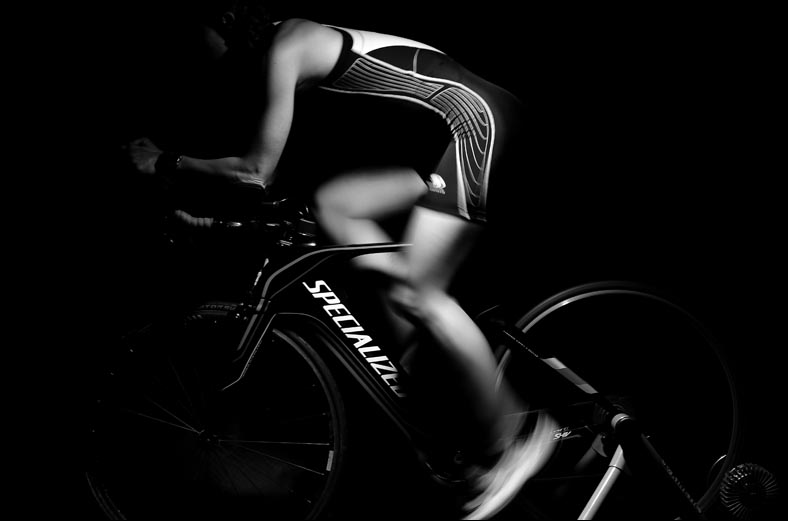 Are you looking for a spin bike that you can use from the comfort of your own home?
Well, you're in the right place. We've reviewed the five best spin bikes of 2019 and compiled a review of them for you.
You'll have a clearer idea of the various features they have to offer and be able to decide which one matches up the best to your fitness needs.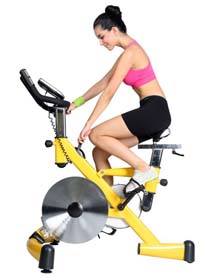 A spin bike has some unique features compared to the more regular outdoor bikes.
The flywheel is the main area where spin bikes differ from standard bikes. It's larger and tends to be at the front in between the pedals. This is the parts that create the resistance as you pedal which makes it feel like an outdoor bike.
They are usually heavier; however, they enable you to get a more intense workout. That's why they're so popular among gym classes.
---
What are the Benefits of Using Spin Bike?
One of the biggest and most obvious benefits of spin bikes is that they help you to lose weight – and at an accelerated rate.
Joining a spin class (or creating your own at home) can help you burn up to 1,000 calories within just one hour.
Spin bikes put less pressure and tension on your joints. Therefore, they are a low impact form of exercise.
This is especially a benefit for the elderly, or people who have injured themselves. It allows you to exercise and lose weight, without causing damage to your joints.
Using a spin bike regularly is awesome for boosting your strength.
It works to build strength in your legs and glutes the most. To experience the best strength results, be sure that you challenge yourself with high resistance levels.
Working out with spin bikes is a fantastic way to keep your heart healthy.
It ensures your heart carries on pumping blood around the body at a good rate. Not only does this help your health, it also improves your fitness.
So, if you're looking to improve your stamina and workout for longer, using a spin bike is a great option.
If you're a little unsure of what features to look out for in spin bikes, this section delves into what you need to be aware of before making a purchase.
One thing you need to keep a close eye out for with spin bikes is the display.
Not all spin bikes come with a display screen. This can be a major disappointment for users who like to keep a track of their workout stats.
A display screen provides you with the details on the number of calories burned, distance, and time. These can be great stats to keep track of as it allows you to see the areas where you need to progress.
The flywheel is one of the most crucial parts of a spin bike. It's responsible for the momentum that you create with the pedals and the resistance.
As a result, we recommend going with a heavier flywheel. They are studies and give you the chance to challenge yourself with more resistance.
What many spin bike users don't know before committing to a purchase is that some don't allow you to change the resistance levels.
Being able to adjust the resistance is a must for many people as it provides you with more control over your workouts.
Let's Look at the Specs of Each
Top 5 Best Spin Bikes 2019 – Reviews & Comparisons
To learn the main features that the top spin bikes of 2019 have to offer, take a look below.
Keiser M3i Indoor Cycle – Best High-end Choice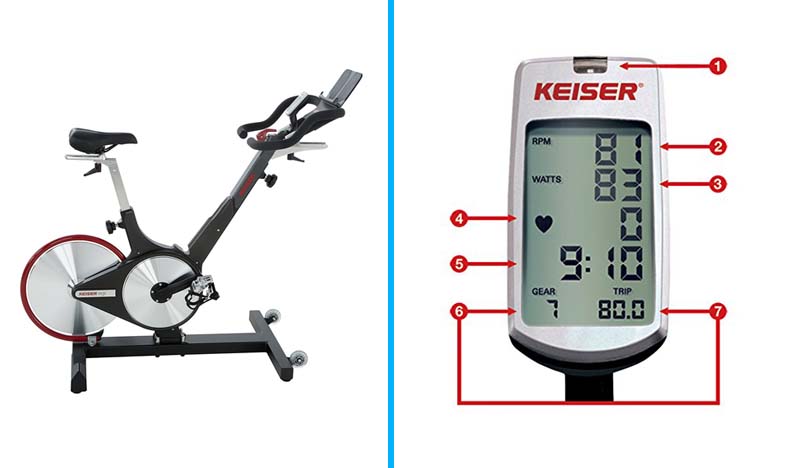 The Keiser M3i is an extremely durable spin bike that comes with a ton of great features that make it the best high-end pick.
Customers have been impressed to discover that you can use Bluetooth technology to connect smartphones. This allows you to see all your workout data on your phone with ease.
We were pleased to find that Keiser has taken the time and effort to ensure the aesthetic design of this spin bike is fantastic.
The body is black and the guard over the flywheel is red. This creates an incredible visual appeal that looks classy in all rooms.
There is a handlebar that comes with a 4-way design that allows you to have the best possible grip while working out. These handlebars can be adjusted to feel comfortable for all people.
With a total of 24 gears to change between, you're given plenty of options to alter the intensity of your workouts.
The display that's equipped to this spin bike is backlit. It works on an LCD system which is superbly crisp and clear to look at.
Therefore, it's very easy for what's coming up on the display. This provides you with information such as the distance traveled, pulse, calories burned, and time.
This is an easy way to track your workout progress and see where to progress.
---
Great adjustability
High-quality tech features
Easy-to-read display
Durable
Remarkable visual design
There's no lubricant included with the order
Sunny Health & Fitness Pro – Best for the money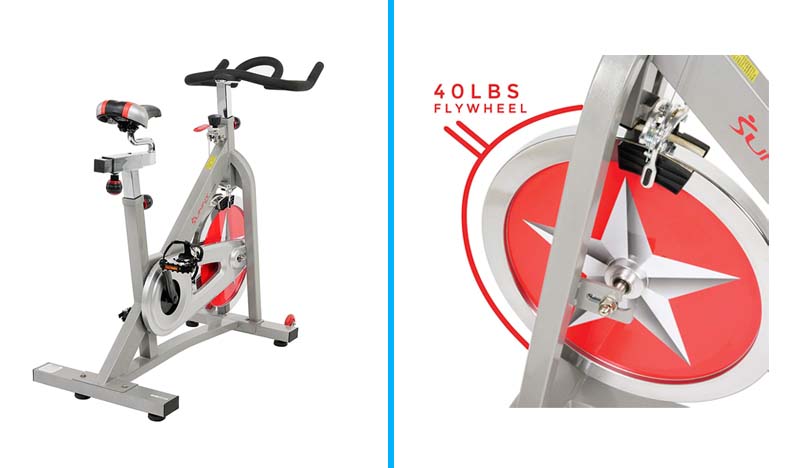 If you're looking for the best bang for your buck, this Sunny Health & Fitness Pro spin bike is the best choice for you.
It doesn't come with as many of the advanced features that you find on the Keiser M3, but it can still get the job done.
Users have been glad to find that this bike feels incredibly stable to ride.
Therefore, if you're looking to do intense workouts, you can be sure that there won't be any wobbling.
For example, you can perform hill climbs without worrying about falling off. These involve putting your entire body weight on the pedals.
The flywheel equipped to this indoor bike weighs a total of 40 lbs. This is a good weight that ensures you can pedal with plenty of momentum while feeling challenging.
The resistance mechanism works on a caliper system, which is typically found on outdoor bikes.
We liked how this bike is equipped with wheels on the bottom. This feature makes it super easy to transport the bike around.
So, if you need to save space in one room, you can roll the bike out, use it, and roll it away back into storage.
Since this is a low-priced spin bike, you can expect to deal with some maintenance. However, it's nothing too major.
It involves lubricating the chain and tightening bolts every now and again.
---
Fantastic value for money
Easily transportable
High-quality flywheel
Very sturdy
Easy assembly
No workout tracking features available
Lack of water bottle holders can be an issue for some
Exerpeutic Folding Bike with Pulse – Most popular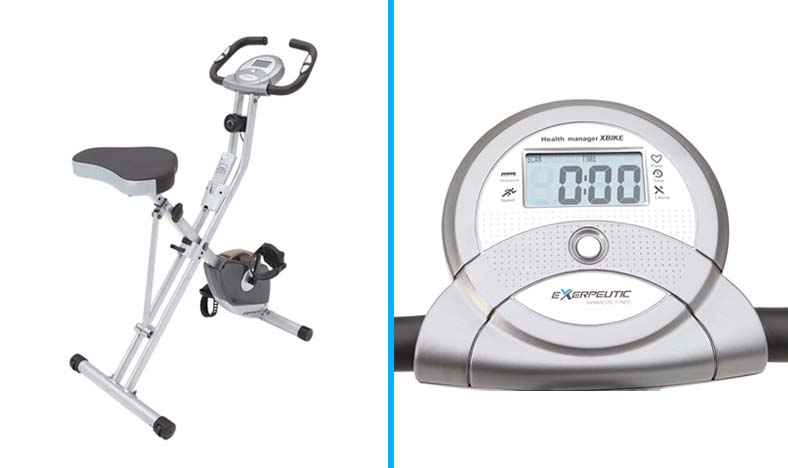 This Exerpeutic bike is one of the most popular options available on the market – and for good reason.
You're able to use a total of eight different levels of resistance while working out with this bike. We liked how these resistance levels can be easily changed too.
So, you're provided with plenty of resistance for challenging workouts.
This spin bike can take up to an impressive weight capacity of up to 300 lbs!
We discovered that this was mostly because of the steel tube materials that have been used. They make the frame incredibly sturdy.
As a result, you're able to ride the bike without worrying about it wobbling. This is a great benefit for people looking to do intense workouts.
For those who are interested to learn about their pulse as they're working out, they'll be very happy with the pulse sensors that come with this bike.
You can find the pulse sensors located on each of the handles. Simply hold onto them as you workout and the display shows you what your heart rate is.
The display operates with an LCD system. It's large in size and enables you to easily see all your workout statistics.
This includes your distance, time, calories, and heart rate.
---
Quiet to use
Clear display
Pulse sensors
Comfortable
8 resistance levels
Heavy-duty construction
Some find that the pedals are too far forwards for their liking
Sunny Health and Fitness Indoor – Best spin bike under 200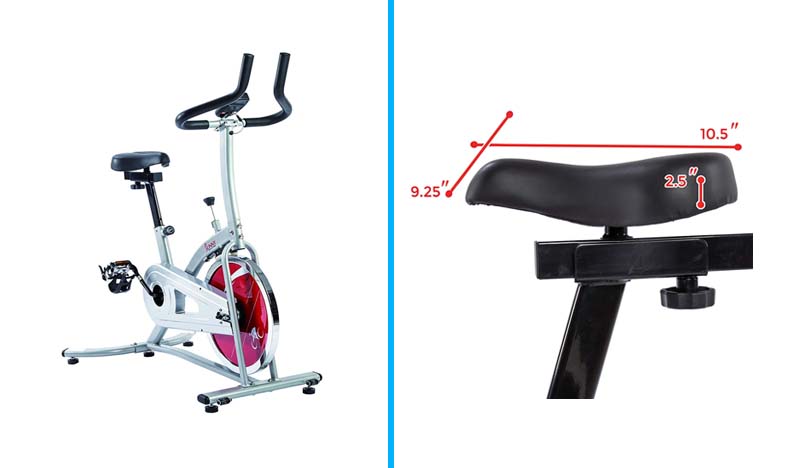 For under $200, this Sunny Health and Fitness indoor cycling bike are one of the best choices available.
Steel materials have been used to construct the frame. As a result, it's incredibly strong and feels very secure while you ride it.
So, if you want to partake in more intense workouts while feeling safe, you can be sure to rely on this bike.
The flywheel weighs an impressive 22 lbs. This is a fantastic weight, especially for a bike that is available at such a low price.
This added weight from the flywheel ensures that you're able to ride with a lot of smoothness.
We appreciated how this Sunny and Health spin bike provides you with a range of resistance levels.
For such an affordable bike, we didn't expect it to have any varying resistance features. This provides you with the ability to have more control over how intense you want your workouts to be.
The more resistance you have, the better chance you have at improving your fitness results.
This bike is delivered to you in a partially assembled state. They include the tools and instructions that you need to put it together.
Users have been saying that the assembly process is pretty straightforward. You can have the bike up and running within 20 minutes.
---
Easy assembly
Heavy-duty flywheel
Solid construction
A range of resistance levels
Very affordable
The lack of a monitor can be a disappoint some people
Schwinn 170 Upright Bike – Best Easy to Use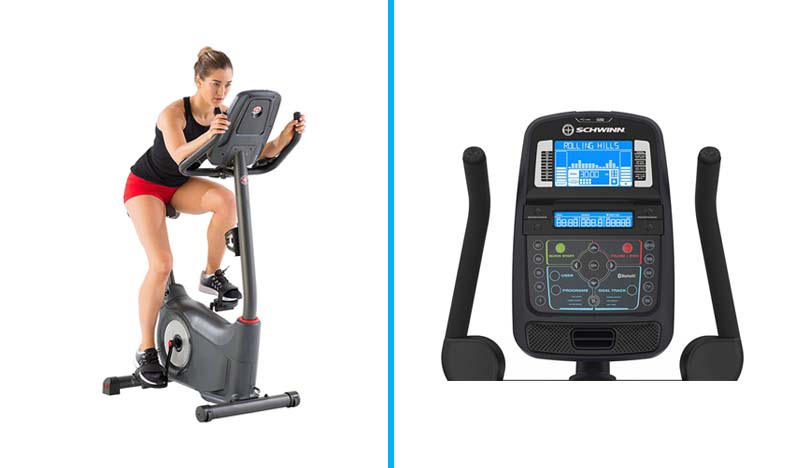 The Schwinn 170 Upright Bike is the best choice for anyone after a bike that's the easiest to use.
You receive a total of two screens with this bike. One of them shows you the progress and whether or not you're on track.
The other provides you with information on your workout statistics. We liked how it gives you information live, as you're working out. It's incredibly accurate and easy to use.
You're able to clearly see your time, heart rate, calories burned, and intensity via the built-in LCD display.
Users have been impressed by how comfortable this bike feels to ride.
One of the main features that are responsible for this is the grip. It has been ergonomically designed. Therefore, you're able to work out for long durations of time in comfort.
We also liked how the seat has been created with a contouring design. This means that it takes on the natural shape of your body so that it's comfortable for each individual.
There is a remarkable number of resistance levels to choose from – 25 in total!
The resistance features on this indoor bike work on a unique ECB Magnetic Resistance mechanism. This makes it incredibly easy to use.
With this many resistance levels available, you can be sure to have control over the intensity of your workouts.
Do you need to move the bike around from room-to-room?
If so, you'll be glad to find that the Schwinn 170 comes with wheels. They are located on the bottom and they make moving the bike around your home super easy.
If you like to workout in one room, but don't want the bike taking up space, these wheels will come in extra handy.
---
Easy transportation
25 resistance levels
Very comfortable
Fantastic display & workout stats
Simple configuration
The assembly instructions could be clearer
You're now aware of what the top five spin bikes have to offer you.
Be sure to consider your own specific uses prior to purchasing one of them. This is crucial to ensure you pick the one that suits your needs the best.
Use our review above as a guide to narrow down the search and make the process easier!