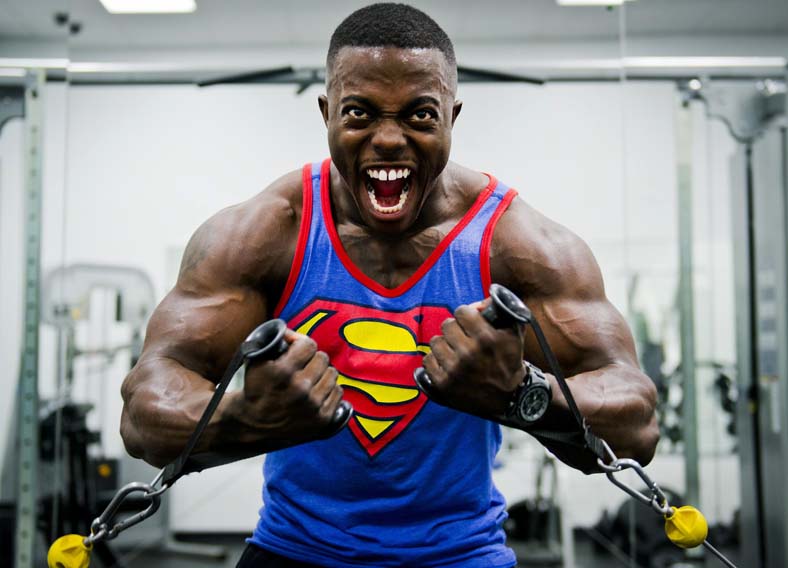 Are you struggling to find the best home gym?
If so, you're in the right place!
We've extensively reviewed the 5 best home gyms of 2020. In this review, you'll learn everything you need to know about what they have to offer, as well as tips on how to choose the best home gym for you.
What are the best home gym equipment systems?
In today's modern world, many people simply do not have the time to go to the gym after a long day at work nor the money to spend on a pricey monthly gym membership. A home gym is a great investment for anyone wishing to achieve their fitness goals from the comfort and convenience of their own home.
Resistance training equipment machines with multiple workout systems are vital components in any home gym. They take up little space and offer numerous exercise possibilities. Some of the highest-rated products include: Marcy Smith Cage, Bowflex Xtreme 2SE, Weider Ultimate Body Works, and Total Gym FIT. Seek products that combine functionality, durability, and versatility.
What home gym equipment is the best to start out with during the beginning stages of creating a home gym?
Start with dumbbells, a pull-up bar, a yoga mat, resistance bands, a stability ball, and a jump rope. After a month or so, get an idea of which products you use more and which ones get used less. For instance, if you use dumbbells a lot, then investing in a larger home gym resistance training machine would be a worthwhile decision. On the other hand, if you gravitate towards your jump rope, then investing in a cardio machine (or machines) would be a good idea.
Click Here to review our most popular dumbbells: Best Adjust Dumbbells For You
Type of Home Gym Machines
There are different kinds of home gyms available that each has different uses and benefits. Take a look below if you're interested to see more about what they entail.
People looking to get the most out of their workouts with limited time would appreciate total body home gyms more.
They include a wide range of exercise options and equipment. As a result, you can work out your lower and upper body. This is great for beginners.
These ones usually operate with resistance rods or weight stacks.
Home gyms that allow you to focus on one particular muscle group are better for intermediate/advanced lifters.
They enable you to zero in on specific muscle groups which makes it easier to develop them. After the beginner stages, muscles take more time and effort to grow – and isolation home gyms work best for those purposes.
Home gyms that use power racks and benches are the best for free weights.
They are better for supporting barbells/smith machines and heavier weighted plates. These are awesome for lifters who are more experienced and need heavier weights.
How To Choose Your Home Gym Equipment
You can use this section as a guide on how to pick the best home gym equipment for your specific needs.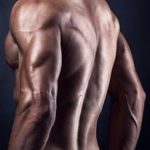 Considering your goals is one of the most important factors that you should consider before committing to a purchase.
For example, if you're a serious weightlifter, picking a home gym that has a higher weight capacity would be best. Alternatively, beginners may want to stick with home gyms that utilize body weight.
How much do you have to spend on a home gym?
Set a budget before you even begin looking for home gyms. This will help you cut down on the time spent researching.
Simply block out any of the options that are above your desired price range. It's a simple way to narrow down your search a lot faster.
Do you have a limited amount of space available for a gym in your home?
If so, picking a home gym that comes with a folding feature would be best. They allow you to fold the equipment up into a more compact size for easier storage.
On the other hand, if you have a larger space, it may be best to go with a bigger home gym. If you have space, why not take advantage of it?
Considering your safety is a big factor to think about.
If you're looking to lift heavy and you don't have someone to spot you, it's a good idea to find a home gym that comes with safety bars.
Without a spotter, you can rely on the safety bars to keep you from being crushed by the weight.
Are you restricted for time to workout?
If so, doing full body workouts may be best. They tend to be quicker but are still effective. In which case, a home gym that comes with a wider range of exercise options would be the best option.
Buying home gyms for family members to use is a great idea to get the household fit. Be sure to consider what they're goals are prior to making a purchase.
Let's Look at the Specs of Each
Top 5 Best Home Gyms 2020
We're about to take an in-depth look into what the best home gyms of 2020 have to offer.
Have a quick read below to learn all of the main features, pros, and cons.
Bowflex Xtreme 2SE Home Gym – best for a full body workout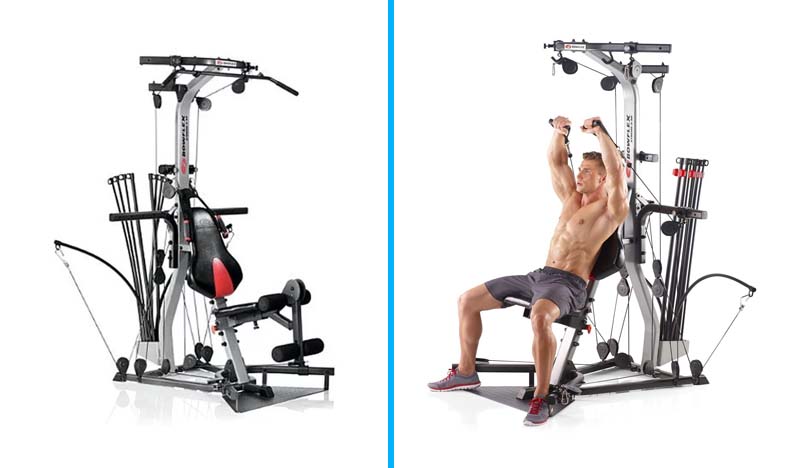 This Bowflex Xtreme 2SE Home Gym was designed to enable you to workout while saving space in your home. It is a total of just 96 x 177" in size. For a home gym, this is a pretty compact size.
Moreover, we were impressed by how it allows you to use a total weight of 410 lbs! This is more than enough weight for most people working out.
So, if you're looking for a home gym that's compact while still allowing you to use heavy weights, this Bowflex machine would be a choice worth considering.
This home gym comes with resistance rods which you use to workout with. The standard weight set that you receive is 210 lbs.
However, we liked how you can upgrade these resistance rods. As you progress and begin to lift heavier weights, you're able to use heavier rods of up to 410 lbs.
Having this progression weight scheme available is very motivating. You always have a targeted weight goal in mind to achieve so that you never remain complacent.
The cable pulley system is fantastic. It allows you to attach various attachments to complete different exercises for various muscle groups.
People love using cables as a way to increase the intensity of their workouts. They are easy to use in supersets. This involves doing one exercise and immediately going into another. The cables are great for this as they don't require any setup – you can simply start lifting.
Great cable pulley system
Maximum weight of 410 lbs
Compact size to save space
You have to purchase new rods for heavier weight
---
Marcy Smith Cage MD-9010G – best for around $1000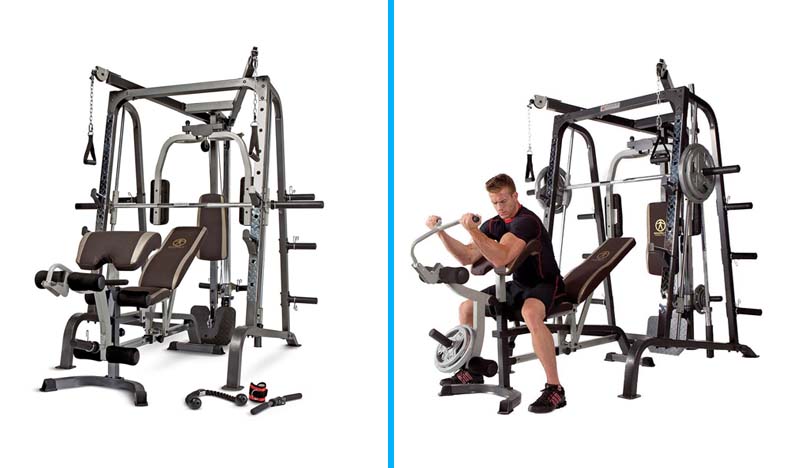 The Marcy Smith Cage MD-9010G is one of the best home gyms that you can get for around $1,000. One of the main reasons for this is because of the construction quality.
They have used linear bearings, chrome guide rods, safety catches, commercial standard bars, and sealed ball bearings.
All of these components come together to provide you with a very sturdy and durable home gym.
The leg developer is a feature that customers have been loving.
It enables you to target your glutes, hamstrings, and quads. Many home gyms tend to be a let down when it comes to exercises for your legs. That's why we were glad to find that the leg developer with this one is so effective.
There's a unique pivot point which allows you to isolate the different muscles in your legs.
This leg developer is mostly used to isolating your various leg muscles, rather than working them all at once.
There are two cables available to use. They enable you to complete a wide range of exercises, such as cable crossovers for your chest, and pulldowns for your back.
The preacher curl is a great addition to any home gym. This one lets you isolate your biceps to build the peak.
We liked how the preacher curl is attached to the leg developer too. It works on a 2-in-1 design, which helps you to save space.
We noticed that this Marcy Elite Cage incorporates weight plates instead of tension rods. So, if you prefer using weighted plates over resistance rods, this home gym would suit you best.
Space saver design
Preacher curl for biceps
Leg develop isolation exercise
Cable pulleys for a variety of workouts
Extremely sturdy construction
---
Bowflex PR1000 Home Gym – best for the money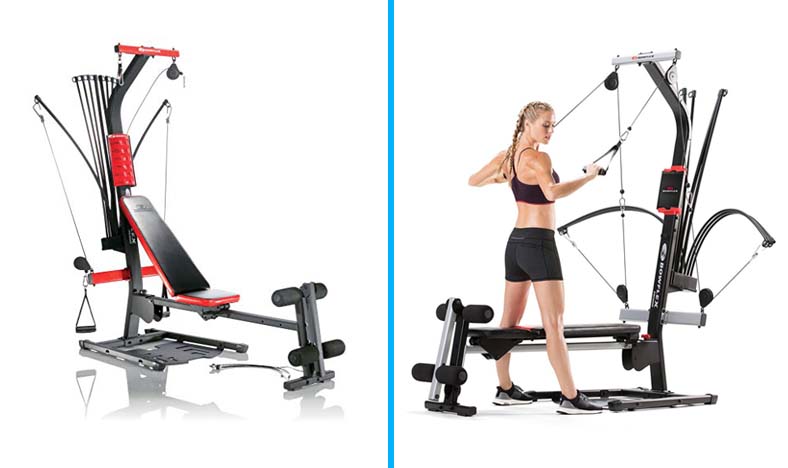 Folding Design & Construction
One of the standout features that make this Bowflex PR10000 the best home gym for money is the folding design.
When you've completed your workouts, you don't have to deal with a big home gym taking up floor space. Instead, you can simply fold it up to a more compact size. This makes it easier to store away.
We were also impressed by how strong and lightweight this home gym is. As a result, you can expect it to last you for a long time and be easier to maneuver in and out of storage.
The fact that there's a rowing machine available with this home gym is incredible.
There's a metal rail that's long enough in length to enable you to use the home gym as a rowing machine. You simply need to take out the support structure at the back, remove the seat pin, and connect the handles of the pulley system.
This is an awesome feature that lets you use the home gym for cardio as well as lifting weights.
We liked how you can adjust the seats on this home gym. It provides you with a great customized feel so that you're able to get the most out of your workouts.
You can change the seats to various angles depending on which exercises you're doing. This can vary anywhere from sitting straight up, to lay down flat.
The cables that are included with this home gym are excellent.
They work with a power rod weight system which lets you be specific about the weights that you want to use.
There are also two separate attachment areas where you can attach different handles to target various muscles.
The power rods included are made out of rubber, which means they create less noise. This may be ideal for home workout environments where you have to be mindful of making noise.
They come with a maximum weight of 210 lbs. Therefore, we recommend this machine for people who are newbies to lifting weights.
Rubber power rods are quieter
Cable pulley system available
Adjustable seats
Fantastic rowing machine
Folding design for easier storage
Strong & lightweight design
The maximum weight of 210 lbs may not be enough for some
---
Weider Ultimate Body Works – best for beginners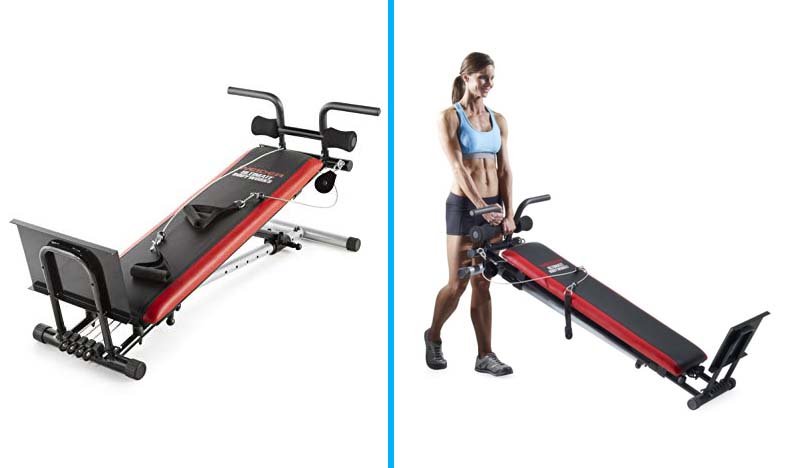 The Weider Ultimate Body Works home gym is a great option for beginners. This is because it takes your body weight and turns it into resistance by using various bands.
Beginners may not be strong enough to start progressing onto the heavier weights. In which case, using your body weight is an excellent way to start.
The power bands are adjustable and can be quickly and effortlessly increased or decreased in weight.
You can experience a total of around 50 different kinds of exercises while working out with this home gym.
Therefore, you can be sure to effectively target your entire body.
This is crucial for beginners. Being able to work out your upper and lower body in sync will enable you to develop all your muscles at the same rate for symmetry.
Tubed steel materials have been used to construct this home gym. As a result, it's incredibly strong and durable.
It also remains completely stable while you workout.
A common problem that users face when using home gyms is that they can feel wobbly. This isn't something you have to worry about while working out with this Weider home gym.
If you're looking to save some space in your home, you'll be glad to know that this home gym comes with a superb folding design.
This enables you to easily fold into a smaller size. This makes it a lot easier to store away while you're not using it.
Space saver folding design
Tubed steel construction for strength & durability
A wide range of 50 exercises
Bodyweight resistance for beginners
Not so great for experienced lifters
---
Fitness Reality 810XLT – best budget-friendly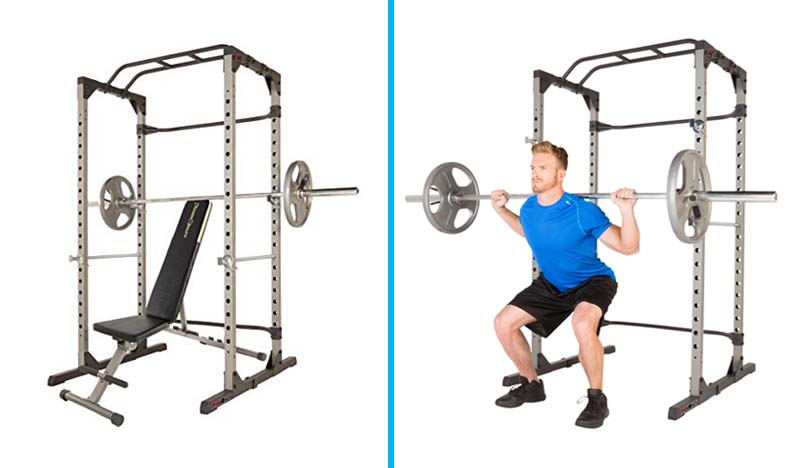 We liked how you're able to have a wide space while working out with this Fitness Reality home gym. You're provided with a length of 50.5" and a width of 46.5" to use. It's a total of 83.5" in height too.
This is plenty of space to complete your workouts without feeling cramped. As a result, you have more freedom to do various types of exercises that smaller home gyms restrict you from.
Steel materials have been used to construct this home gym. Therefore, you can expect it to be incredibly strong and durable.
We were impressed to find that this steel frame is 2 x 2" in thickness. This works effectively to provide you with a great sense of stability while working out.
This home gym has a remarkable weight capacity of up to 800 lbs!
For a home gym that's available at such a budget-friendly price, we didn't expect it to have such a fantastic weight capacity.
This makes it a great choice for powerlifters and people who are serious about lifting heavier weights.
You receive two safety bars which you connect to both sides of the frame. There is a total of 19 holes where you can put the safety bars through.
Therefore, you have the choice to personalize your workouts more. These safety bars are effective at being able to handle up to 800 lbs of weight.
We also appreciated how the safety bars have been coated in chrome-plating. This works to increase the durability and strength.
Durable & strong safety bars
Budget-friendly price
Impressive weight capacity of 800 lbs
Strong steel construction
Big space to workout in
The tools for assembly could be better
---
What type of space in a house is ideal for a home gym?
● Most spaces can be converted into a home gym area, the space used depends on preference and availability. A space of at least 20 feet by 50 feet is necessary, anything larger is ideal. Even a spacious walk-in closet could work. Ideally, an empty office space or room is best. A cleared out area in a garage or basement is also suitable. However, do choose the space before investing in equipment, as the space should be measured to ensure that all equipment fits properly. Factors such as ceiling height, inward or outward opening doors, room dimensions, electrical outlets, and floor durability should all be considered.
What is the most popular equipment to implement into a home gym?
● This depends on personal preferences. For cardio lovers, a treadmill, stationary bicycle, and elliptical machines are vital. Weight-lifters should look into resistance training equipment with versatile workout systems. Free weights, jump ropes, bands, blocks, steps, and kettlebells could also be considered.
How do I know which home gym equipment is best suited for me?
● According to our best list to know which home gym equipment will best suit your personal fitness needs.
Can a home gym helps achieve weight loss?
● A home gym can be just as effective for aiding with weight loss as any other type of gym. However, weight loss from any type of gym is only achieved through consistent workouts over long periods of time.
What things should be avoided when creating a home gym?
● Make sure that all products purchased for your gym are suitable for your current level of fitness. Consult with a physical trainer and a physician before starting any fitness program.
Home gyms give the option of customizing the equipment to fit individual personal workout preferences, creating a unique exercise space that caters specifically to individual needs. Before investing in a home gym, it's crucial to pinpoint one's personal fitness goals, as well as thoroughly analyzing the space which will be dedicated to the home gym for proper planning.
Be sure to use our review above to help you decide on which home gym is best for your specific needs. Consider all of the main features, advantages, and disadvantages before making a final purchase.