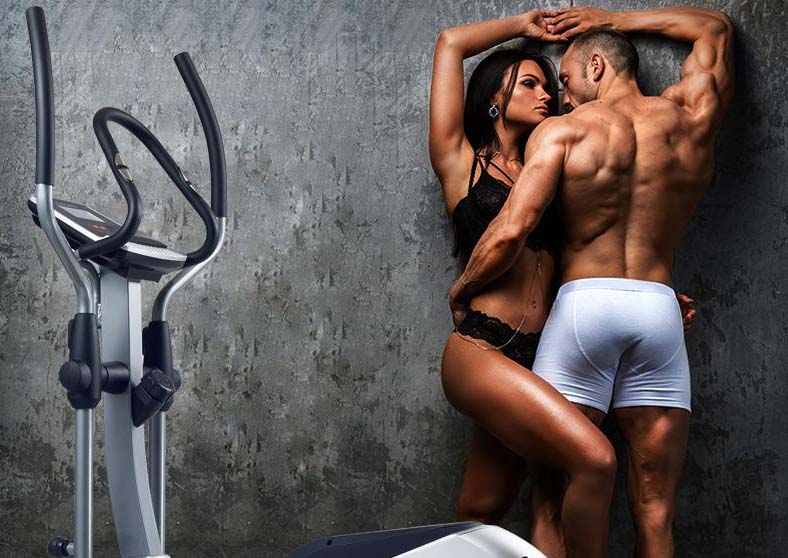 For this article, and hopefully, to help you as a reader make a purchasing decision, we have compiled a list of five of the best elliptical machines currently available under $1000.
It should interest you to know that there are varied prices suitable for varied budgets. However, we believe that a near perfect blend of affordability and quality can be found in elliptical machines that cost $1000 and under.
This article will provide some basic information that you may require about each one of the five, and we will also provide our own final verdict on which one of the five is the overall best. Enjoy!
How to choose Best Ellipticals under $1000
According to fitness trainers and doctors alike, healthy adults should engage in at least two and a half hours of moderate-intensity aerobic activity each week – double that if you're looking to lose weight.
Running or walking is one way to avoid expensive gym fees, but it isn't always the best solution. Adverse weather conditions can change plans quickly, resulting in another night binge-watching your favorite shows from the sofa.
Elliptical machines are a low-impact and convenient solution. Not only that, but walking puts a substantial amount of strain on your joints. For these reasons and more, elliptical machines are becoming increasingly popular home workout machines.
They're low impact, convenient, and effective. Prices for elliptical machines range from $200 to $5000, but you can score a good quality machine for under $1000.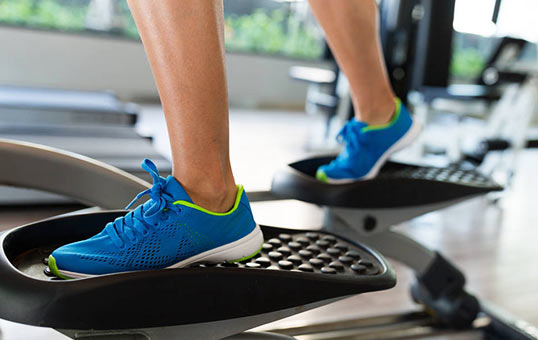 When shopping for an elliptical machine, here are a few things to consider no matter what your budget is.
An average elliptical is about 79 inches long and 63 inches tall. A front-drive machine will also need more space behind it when it's in use. Because an elliptical adds about 1.5 feet to your height, ceiling height is also a factor.
Stride length is something that anyone who is particularly short or tall should pay attention to. The best way to make sure that the stride length is right for you is to try it out. Twenty minutes of exercise on a machine should let you know if it's the one. Your motions should feel smooth and natural, with no stress to your knees or hip.
The two main versatility features to asses are resistance and incline.
The lowest resistance setting should be easy for you to pedal, increasing in difficulty as you adjust it. Around 75 percent of the highest setting should be a real challenge.
Some machines also have an adjustable incline. These features allow you to fine-tune the machine for the most effective workout as you gain strength.
Just like everything else today, elliptical machines can come loaded with electronic features and interesting gadgets.
Some optional features include heart rate monitoring, wireless connectivity, pre-set workout programs, and even HD touch screens. Think about how you'll use your machine and consider which features are most important to you.
What to Expect at $1000 Range?
First of all, it is essential to provide some clarity regarding expectations. As suggested earlier, there are elliptical machines that cost way more than a thousand dollars. This article is not in any way suggesting that the products that we reviewed are of superior quality to all the pricier ones. In fact, elliptical machines that cost under $1000 fall within the entry to the mid-level range, and most of them cannot compete with the club level machines that are understandably way more expensive.
Having said that, you should know that we have total confidence in the products reviewed in this article. These are the top performers in the under $1000 category, so you can rest assured that while there may be better, more expensive elliptical machines out there, any of these can offer you some pretty decent features with a generally good level of performance. Now, here are the five in no particular order:
Bowflex Max Trainer M3
Schwinn 430 Elliptical
Nautilus E614 Elliptical
ProForm Hybrid Trainer
Body Champ 2 in 1 Cardio Dual Elliptical
| Models | Bowflex M3 | Schwinn 430 | Nautilus E614 | ProForm Hybrid | Body Champ |
| --- | --- | --- | --- | --- | --- |
| Dimensions | 46″ L x 25″ W x 63″ H | 70.1″ L x 28.2″ W x 63.2″ H | 71.5″ L x 26.7″ W x 63.2″ | 63″ L x 26″ W x 75″ H | 13″ L x 23.5″ W x 39″ |
| Flywheel | N/A | 18 lbs | 16 lbs | 12.4 lbs | N/A |
| Resistance Levels | 16 | 20 | 20 | 16 | Magnetic |
| Programs | 8 Workout Programs | 22 Workout Programs | 22 Workout Programs | 16 Workout Programs | 12 Workout Programs |
| Stride Length | N/A | 20 inches | 20 inches | 15 inches | 14 inches |
| Incline | N/A | 0 – 10 degrees | 0 – 11 degrees | N/A | N/A |
| Display | Backlit LCD/LED | 2 Blue Backlit LCD Displays | 29 Workout Programs | Large LCD | LCD |
| Folding/Compact | Yes | No | No | No | Yes |
| Weight Capacity | 300 lbs | 300 lbs | 300 lbs | 350 lbs | 275 lbs |
| Warranty | 2 Years | Mechanical:2 Years | 0 – 11 degrees | Parts:90 Days Labor:90 Days | Frame:1 Year |
| Enjoy | Price | Price | Price | Price | Price |
Our Top 5 Best Ellipticals Under $1000 2020
Bowflex Max Trainer M3 (Editor's Choice)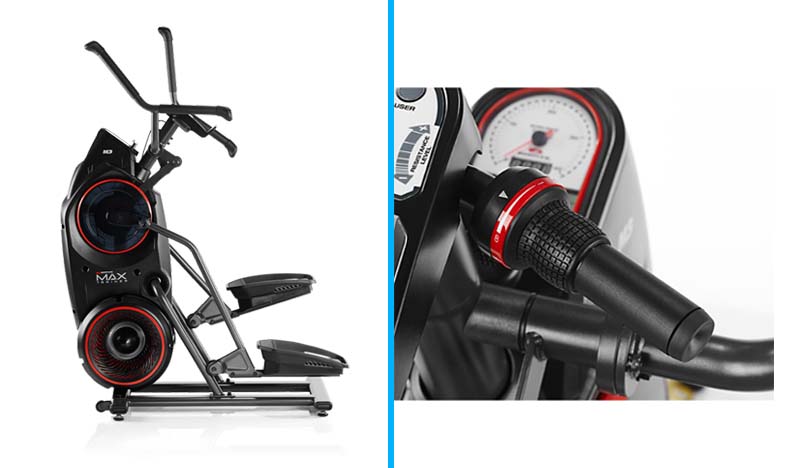 What sort of exercise machine list would be complete without a mention of a Bowflex product, right?
Bowflex is one of the more reliable manufacturers in this field, and it is no surprise that they have a quality, reasonably priced product for elliptical enthusiasts.
The M3 is the most affordable product within Bowflex' Max Trainer line, and it is obvious that the price range is a target at providing quality for people with a more restricted budget.
The M3 is a very durable product. Its functionality and reliability have us convinced that anybody that makes a purchase would be getting a product for the long haul.
The product is guaranteed to help you to burn a lot of calories and build muscle with proper and consistent usage. Unlike a lot of other workout equipment that we have used or seen in the past, the Bowflex M3 gives you options to work out at intensity levels that are pretty rare with other trainers.
It can hold up weights of up to 300 pounds, but this isn't reflected in the size of the equipment because it is so portable that it could fit in the smallest gym!
Read the detailed Review Here!
Here are some key features:
Tablet Holder
More effective upper body workout (when compared with similarly priced products)
A higher rate of calorie burn
Heart rate monitor available with the use of an included chest strap
The free 8-week subscription on Daily Burn (an app that offers over 600 workout videos for reference)
Clear display screen
Multi-functionality (can be used as a stair stepper or an elliptical)
Minimal to no impact on troubled joints such as the back or knees.
Media Shelf
2 user profiles
---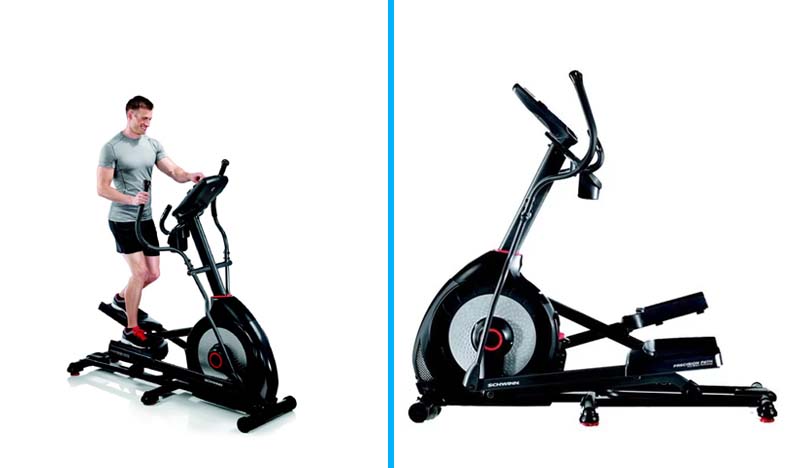 Here's another product from a respected manufacturer. Schwinn also targeted restricted budgets with the 430 elliptical, but they have made a great product nonetheless.
The Schwinn 430 has been on sale since 2017 and has received great reviews from the fitness world. It's got moving handlebars for total body workout, a great stride length of 20″ among a few other interesting features. Curious yet?
To be fair, the Schwinn 430 is a bit more suited to low-impact workouts, but this only contributes to the features that make it a great product for beginners.
If you are testing the waters, possibly buying an elliptical for the first time with nothing too serious planned, then you should have a look at this one.
Here are some features that caught our attention:
20" stride length
20 pre-set workout routines
20 resistance levels
Six incline settings
2 user profiles
Cooling fan
Handlebars with built-in pulse sensors.
Supports weights of up to 350 pounds
---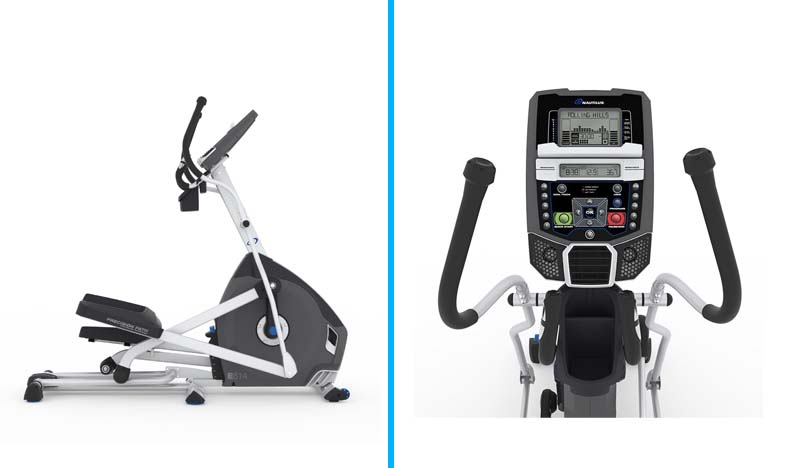 The E614 is one of the older models of elliptical machines produced by Nautilus. However, the fact that it is still in conversations about the best elliptical machines available is a testament to its quality.
It is durable, affordable and packs some interesting features, although we have to admit that one of its strongest points is its durability.
The Nautilus E614 is suitable for beginners and experts alike, and just like other elliptical machines on this list, it promises physical results if used consistently.
It is a perfect purchase if you're looking to buy a machine that would be used by the whole family due to its sturdy structure, limiting the chances of damage. This makes up for any limitations that you may experience when comparing the product with newer models with newer features.
The E614 still offers some pretty decent features though, and here are some of them:
DualTrack LCD window for progress tracking while you read a magazine or some other text on your tablet
Data exporting and goal tracking with Nautilus Connect
22 workout programs
20 resistance levels
Large, well-cushioned footplates
Charging port for tablets or phones
---
ProForm Hybrid Trainer Review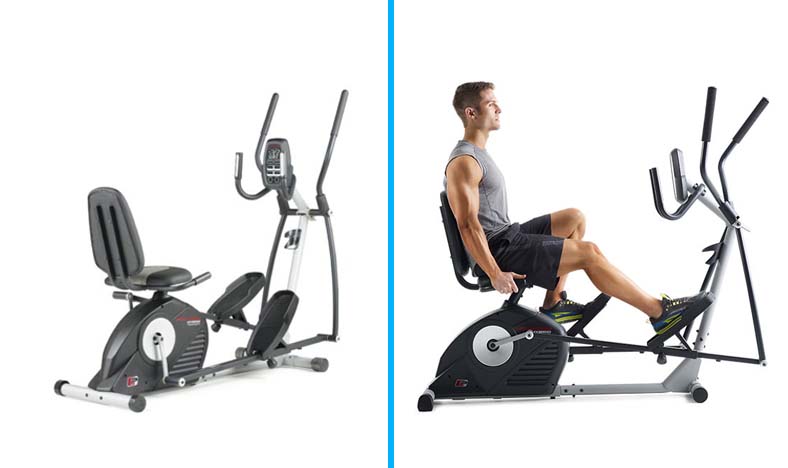 The ProForm Hybrid Trainer is a mechanical beast. It is produced with the same commercial gauge steel that has become associated with ProForm products.
The best part? All the muscle and the machine scarcely makes any noise. This is achieved with the use of Silent Magnetic Resistant training technology.
Additionally, the ProForm Hybrid Trainer has large foot pedals and cushioned upper-arm grips, making your workout experience as comfortable as possible.
The idea behind the "hybrid" in its name is a hint at its versatility. The product can double as a recumbent bike and an elliptical trainer, so you're basically purchasing two products for the price of one and for the price that it is going for, you certainly will not be wasting your money.
Here are some features that we found interesting:
Two-in-one product
Tablet holder
Large, cushioned foot pedals
16 inbuilt workout apps
Watts power meter (this alerts any user about their pacing stats to help them to reach milestones)
iFit Bluetooth-enabled console (unlimited workout library with workout programs designed by professionals)
Silent Magnetic Technology
15" stride length
---
Body Champ 2 in 1 Cardio Dual Elliptical Review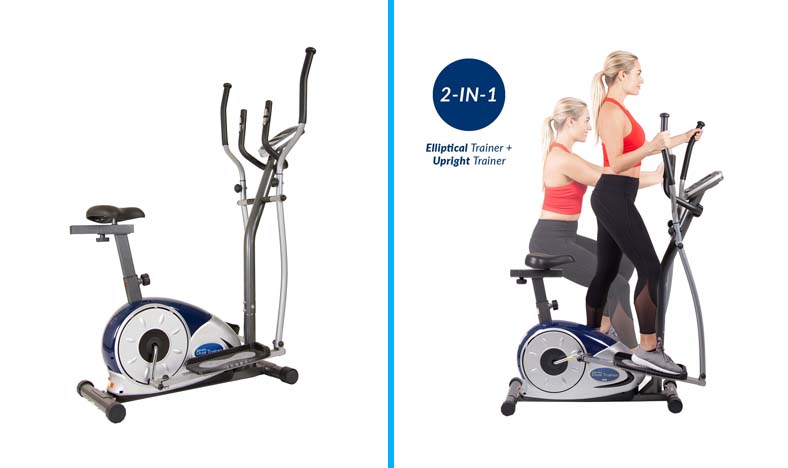 Here's another versatile product. The Body Champ is a product from the manufacturer "BodyMax," and it can handle weights of up to 275 pounds.
Similar to the ProForm hybrid trainer, this product can double as a stationary bike on an elliptical trainer. This versatility already gives it an edge over immediate competitors.
The idea of getting a product that can function as two may be the difference maker for some users.
The product has a sturdy build and makes minimal noise when in use and there are ten pre-set workout programs that you can choose from.
Here are some key features:
Advanced Magnetic resistance
14" stride length
10 pre-set workout programs
Easy to assemble
Dual functionality (bike & elliptical)
Heart rate monitor
---
Frequently Asked Questions
Now that the basics are covered, let's talk about details.
Q: What's the best brand elliptical machine in my price range?
Brands like NordicTrack, ProForm and Sole Fitness are all solid brands with a good selection of elliptical machines under $1000. These are the top three based on quality and online reviews.
Nautilus and Schwinn are also decent choices, but you'll notice a difference in the number of features and programs available.
Q: Is an elliptical machine better than a treadmill?
Both machines can help you stay active and reach your goals but unless you're training for a 5k, an elliptical is a way to go. Elliptical machines keep your feet connected to 'ground' constantly which means less stress on joints.
In addition to being low-impact, using an elliptical engages the upper body and core to really provide a whole-body workout.
Q: Do they come with a warranty?
Warranty coverage is usually a good indicator of a product's overall quality. Although the particular terms will vary widely, almost all elliptical manufacturers offer a lifetime warranty on the frame.
In the $1000 price range, you can expect to have a warranty of around two years for parts and one year for labor costs.
Q: What's the difference between grip and chest strap heart monitoring?
Heart rate monitors that are built into the grips of an elliptical machine sense your pulse through the skin of your hands. The data from grip monitors is pretty reliable, but it's not perfect. Chest monitors use EKG signals to measure your pulse at your heart and can be cumbersome to put on and exercise with.
Chest monitors are as close to perfect as you can get but if you're not a die-hard trainer, they're probably not worth the additional cost.
Finding the best elliptical under $1000 is not complicated. But you will need to differentiate their features and materials for your own fitness goals. Apart from the price, they come with extras such as heart rate sensors and multiple resistance settings for an extra challenge as you improve your cardiovascular endurance.
Bowflex Max Trainer M3 – Best for beginners
Bowflex Max Trainer M3 makes training easy. It is mainly made for beginners as it features helpful effort-measuring graphics. Those training for fat loss sees a visual representation of their calorie-burning efforts per minute. It allows users to adjust the effort level in the correct fat burn zone.
Bowflex proudly presents the elliptical machine as an all-in-one trainer for 14-minute workouts with results. Given the intense and short nature of these workouts, users are also granted access to Bowflex's app. This app tracks weekly training parameters such as total workout minutes. These statistics act as personal trainers making the life of the user easier.
Schwinn 430 – Resistance levels and adjustability
Schwinn is better known for making quality indoor bikes. But the 430 elliptical machine offers a level of adjustability which places it among our favorites. There are 20 levels of resistance to be counted on with the elliptical. This is why it can be considered both by beginners and by advanced trainees. These can also be adjusted through workouts as needed.
With added moving handlebars, the elliptical also offers the upper body a chance to join workouts as well. Cardiovascular improvements can be seen with such moving arms. But it also offers fixed handlebars for steady-state cardio workouts, suitable for slower pace fat burning.
Nautilus Upright Bike – Long workouts
This hybrid elliptical also features a stationary bike functionality. This is why we recommend it for long workouts. When you want to slow down the heart rate level you can simply sit and continue pedaling. But when you want to overpass 100 beats per minute, you can stand on the pedals and use this as a regular elliptical.
An adjustable fan is also added to the central console. It offers a much-needed cooldown relief during intense workouts. For some reason, a fan is not added to all elliptical machines. But it can be an appreciated accessory, especially when training on hot summer days or when training in small rooms with poor ventilation.
ProForm Hybrid Trainer – Best for the entire family
Made with oversized pedals, this hybrid trainer is a suitable choice for those with limited space inside their homes. Since it features oversized pedals, it holds users of various heights. At the same time, it offers one of the best reasons to start training at a maximum intensity as these pedals also feature angle adjustability.
Body Champ 2-in-1 Trainer – Best for the elderly
With 3 sets of handlebars, this hybrid recumbent bike and elliptical offer strong grip points. Suitable for the elderly who need to stay in shape and safely get on the elliptical on their own, it can be used at home. The elliptical can be used as a recumbent bike with handlebars to the sides of the seat. But it also features fixed and moving handlebars just as on the gym's elliptical machines. This is why it supports all types of workouts, especially for those seeking extra versatility from a single fitness machine.
From extensive usage and testing, we found that all of these products have their strong points and a few downsides in some situations. There is the one that offers the most extended stride length, another which offers the cheapest pricing, another which guarantees extreme durability, and a couple which offers dual functionality.
However, when taking all features and general build quality into account, the winner of this round is the Bowflex Max Trainer M3. It simply is just a class apart and offers quite a bit more than its price suggests. It may not be the cheapest, but it is certainly affordable and has everything that you may need from an elliptical machine of its caliber.
Have you used any of these machines before? If you have, we'd like to know your thoughts!