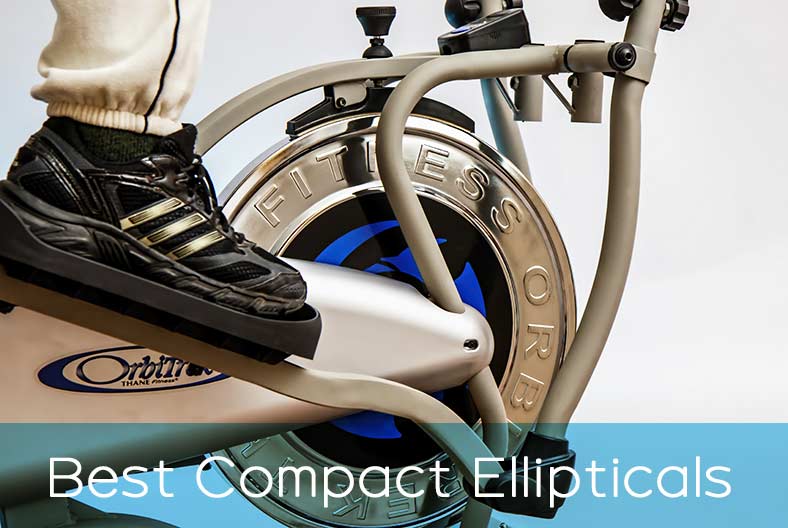 If you're considering purchasing a home exercise machine, you should be looking at compact ellipticals.
We researched the latest models from the industry leaders in home fitness and assembled this list of the best ellipticals for small spaces.
The models listed here are the five best compact ellipticals we could find. This list is a great place to start your search for the perfect elliptical for your home gym.
Are Compact Ellipticals Right for Me?
If you've ever been to a gym, you know that ellipticals are one of the most popular cardio machines in the place. No matter what your fitness level is, elliptical machines are an effective means of maintaining cardio health.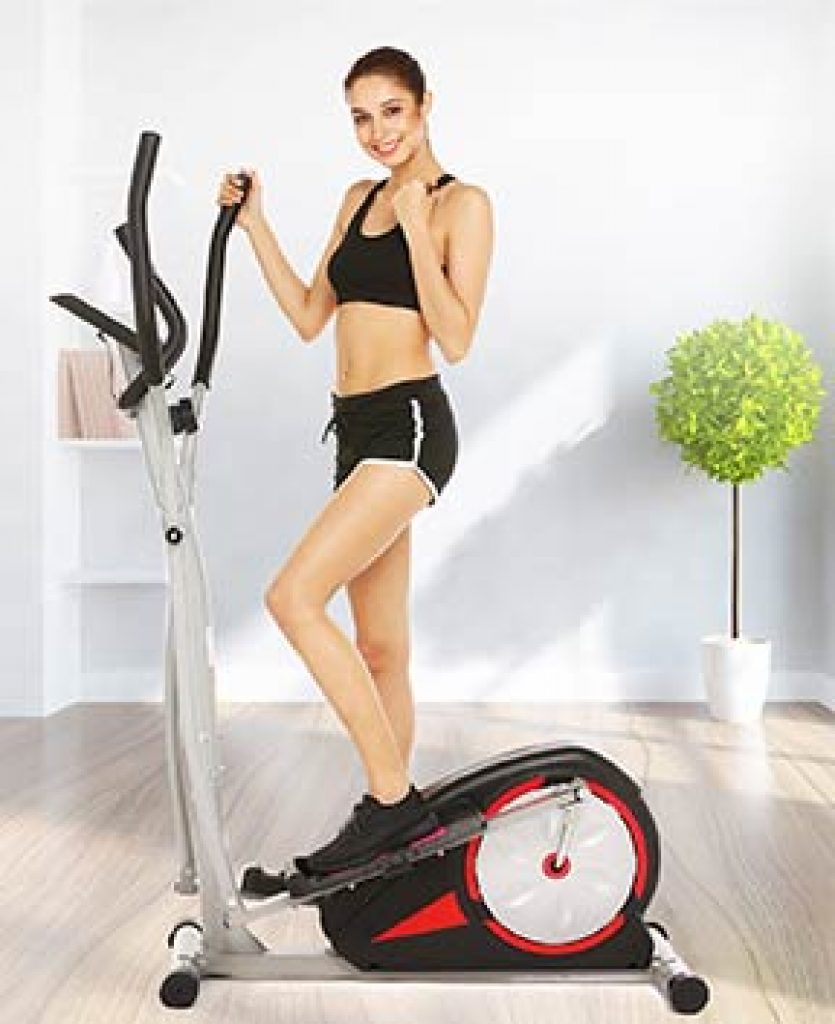 In addition to the cardiovascular benefits, regular exercise on an elliptical machine will tone and strengthen your legs and core.
Their low-impact movement and customizable settings make them great options for doing high-intensity interval training.
The only problem with most elliptical machines is that they are way too large to be practical for home use. However, certain ellipticals are designed with space in mine. This class of compact ellipticals is small enough to conveniently fit in your home gym without taking up a ton of space. They're great options if you have limited storage in your home.
Compact ellipticals are also great for beginners. Often times, people who are new to training don't know exactly what they're looking for in a machine. If you're new to exercising and buying your first machine, a compact elliptical is a great choice because of its smooth, low-impact motion. Using a compact elliptical regularly, you can build your cardiovascular health with without putting undue strain on your joints and skeletal system.
The models listed here are also some of the most inexpensive around. You may be surprised to find out how little these machines cost, and they're small enough to fit just about anywhere in most homes. If you're looking for a simple, inexpensive way to stay in shape at home, a compact elliptical is an affordable way to improve your total physical health.
These machines are great for small or busy homes. They are lightweight, don't require any power, and have small transport wheels to make moving the machine easy.
Whether you're a beginner or advanced athlete looking for an inexpensive way to train at home, a compact elliptical could be the perfect machine for your den, garage, or home gym.
You may also interested:
The Best Ellipticals for Small Spaces of 2019
Model
ANCHEER 
Marcy NS-40501E
EFITMENT E005
Body Rider Fan BR1830
Sunny Health & Fitness P8300
Resistance Settings
8 / Magnetic
8 / Magnetic
8 / Magnetic
8 / Friction Belt
8 / Magnetic
Stride Length
13"
12"
11"
12"
11"
Heart Monitor
Yes
No
No
No
No
Media Holder
No
Yes
Yes
No
No
Weight Limit
330 lbs
300 lbs
220 lbs
220 lbs
220 lbs
Weight
79 lbs
76 lbs
63 lbs
58 lbs
51 lbs
Dimensions
23" x 11" x 41"
55.5"L x 25"W x 37.5"H
50" x 23.5" x 62"
35.6 x 20.1 x 57.7
45.3" x 23.6" x 59.1"
Warranty
Not Listed
Workmanship & Material: 2 Years
Not Listed
Frame:1 Year

Parts: 90 Days

Frame: 1 Year

Parts: 90 Days

Enjoy
Check Price
Check Price
Check Price
Check Price
Check Price
ANCHEER Elliptical Machine Trainer
You want a home elliptical machine that is compact and quiet. The ANCHEER Elliptical has a smooth, quiet operation that's perfect for your home.
It also features eight different levels of magnetic resistance levels so you can adjust the workout to fit any fitness level.
Despite its compact size, you'll enjoy a stride length of 13 inches and no-impact movement that makes working out your entire body enjoyable and easy.
Just because this machine is compact doesn't mean it's cheaply made, this elliptical is heavy-duty. It features a super-strong frame that can support users up to 250 pounds, and the extra-large pedals are covered with a non-slip material that makes the machine more than ready to stand up to even the most vigorous exercise sessions.
Built-in Heart Rate Sensor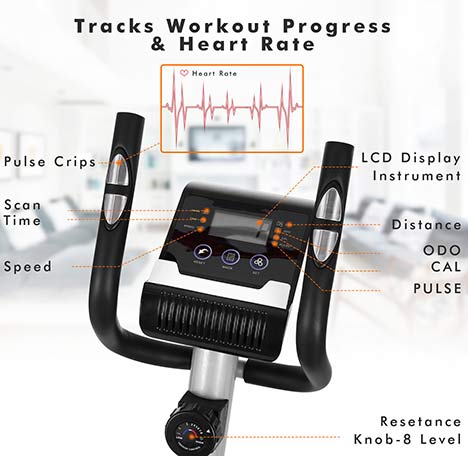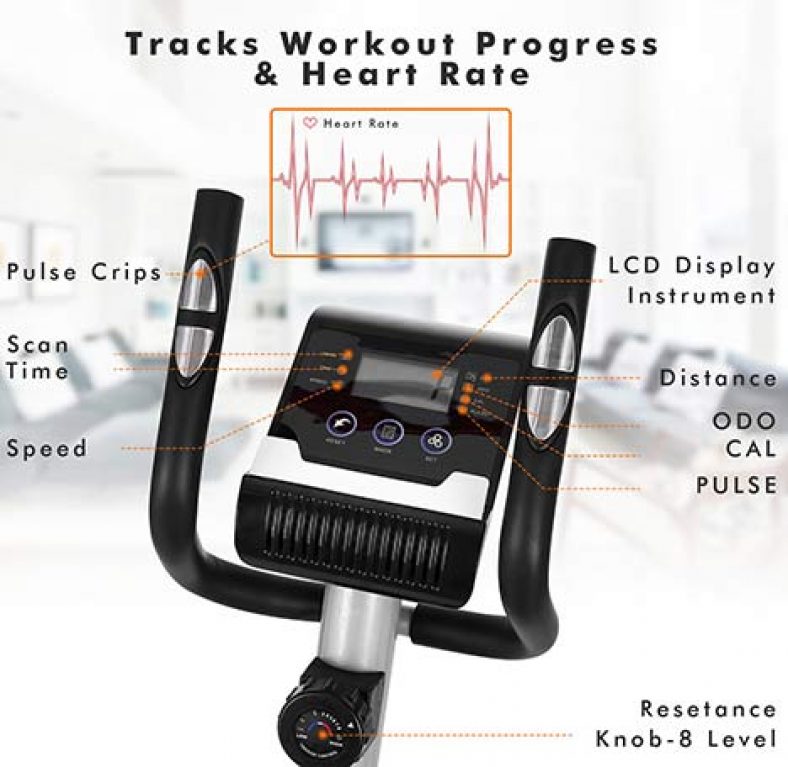 This model features a set of built-in panels that will automatically read your vitals and give you instant feedback while you exercise. This is extremely important for monitoring your heart rate and other vital statistics while exercising.
When doing vigorous cardio exercise, it's important to keep your heart rate within your personalized training range. If your heart rate is too low, you're not exercising to the best of your potential, but an overclocked heart rate can cause your body to burn muscle mass instead of fat and that does your physique for harm than good.
The built-in heart rate monitor enables you to consistently stay in your ideal training range, so it's a great option for intense cardio programs like high-intensity interval training.
Super-Smooth Flywheel System
The flywheel design is designed for smooth and quiet operation, making this model an ideal choice for a home gym.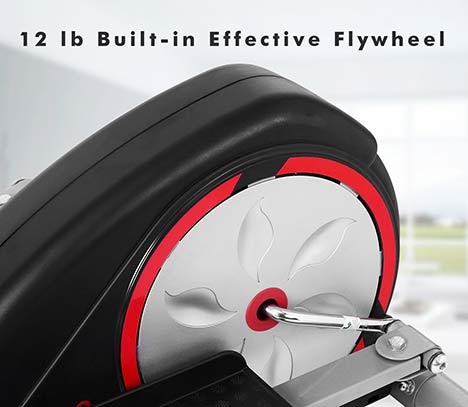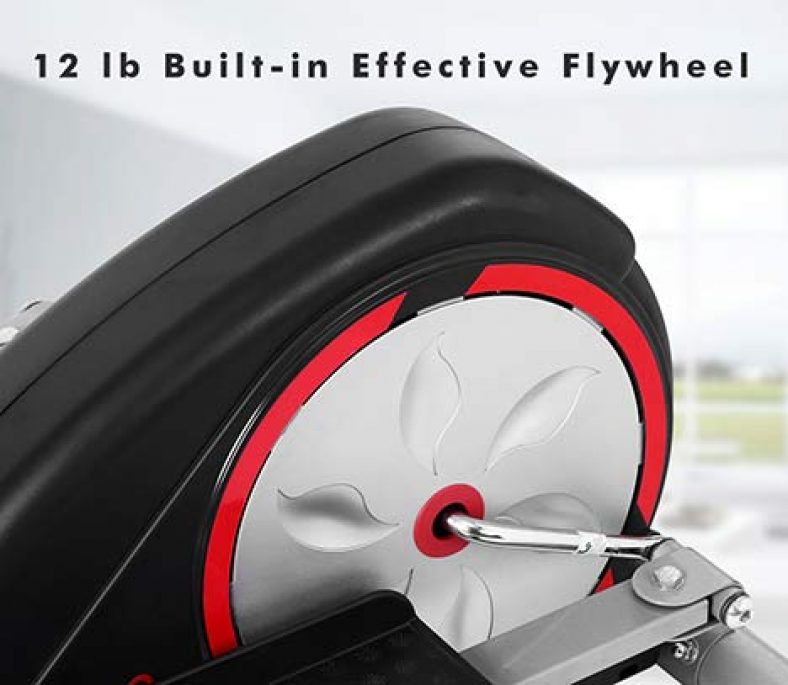 The design is inertia-enhanced, so it can keep up with your pace during peak exercise intensity. Plus, it will keep stable during vigorous pedaling. Resistance can be adjusted to eight different settings, ensuring that this machine can accommodate users with varying fitness levels.
The super-stable, super-smooth action is ideal for an elliptical machine, and as soon as you take a ride on this machine you'll fall in love with the motion.
Easy-to-read, large LCD display
8 Magnetic resistance levels
Ergonomic handlebars
Non-slip pedals
Built-in heart rate monitor
12 lb inertia-enhanced flywheel
Transportation wheels for easy moving
Assembly required
Weighs over 70 lbs.
Marcy NS-40501E Magnetic Elliptical
This Marcy NS-40501E is an affordable home fitness machine that will tighten and tone your entire body and improve your cardiovascular health with regular use.
The machine is manufactured by Marcy, who is known for making affordable home exercise equipment. This model features ergonomic handles covered with foam padding to give you enhanced grip cushioning, so you can exercise comfortably in your own home.
The machine's user-friendly design includes a simple, easy-to-operate LCD display that tracks time, speed, calories burned, distance, and more. It also has extra-large pedals to accommodate even the largest shoe sizes and give you have a stable foundation during exercise.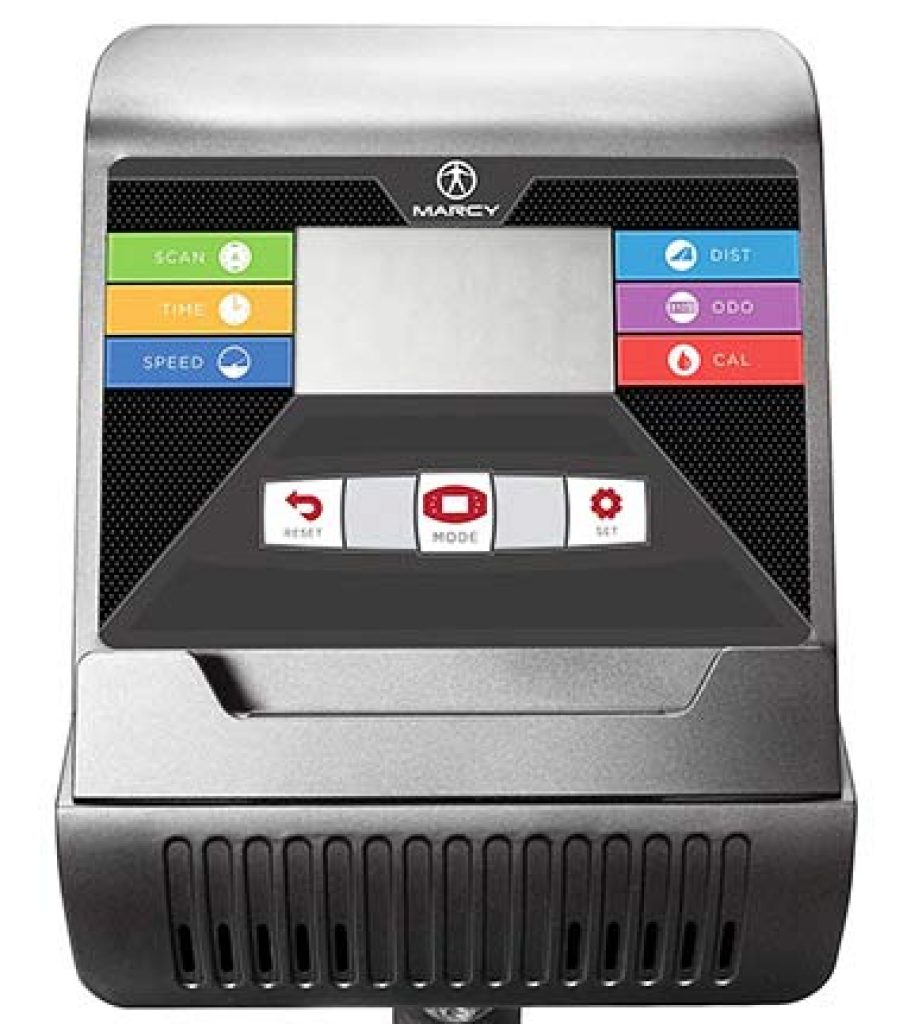 All-in-on Exercise Station
This machine is the only fitness machine you need in your home to stay in shape and tone your entire body.
The up-tempo exercise of an elliptical is great for improving cardiovascular health. Using this machine as part of a diet and exercise program can help you lose weight, build lean muscle, and improve overall fitness.
If you're a beginner who is just starting an exercise program, the Marcy NS-40501E is an inexpensive choice for a home fitness machine. It's fully capable of being the foundation of a new exercise routine, and it's small enough to fit in almost any home gym.
The Marcy Ns-40501E is built to last. It has a solid frame and it's covered by a limited 2-year warranty, so if the manufacturer will cover any defects in materials or workmanship.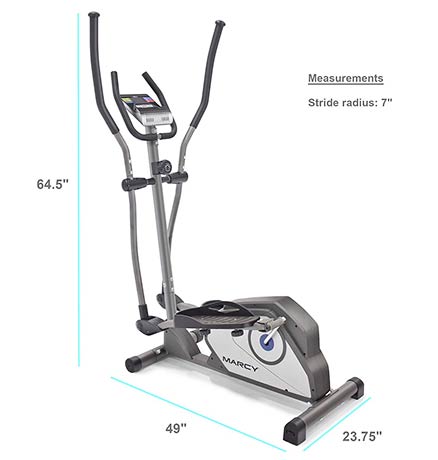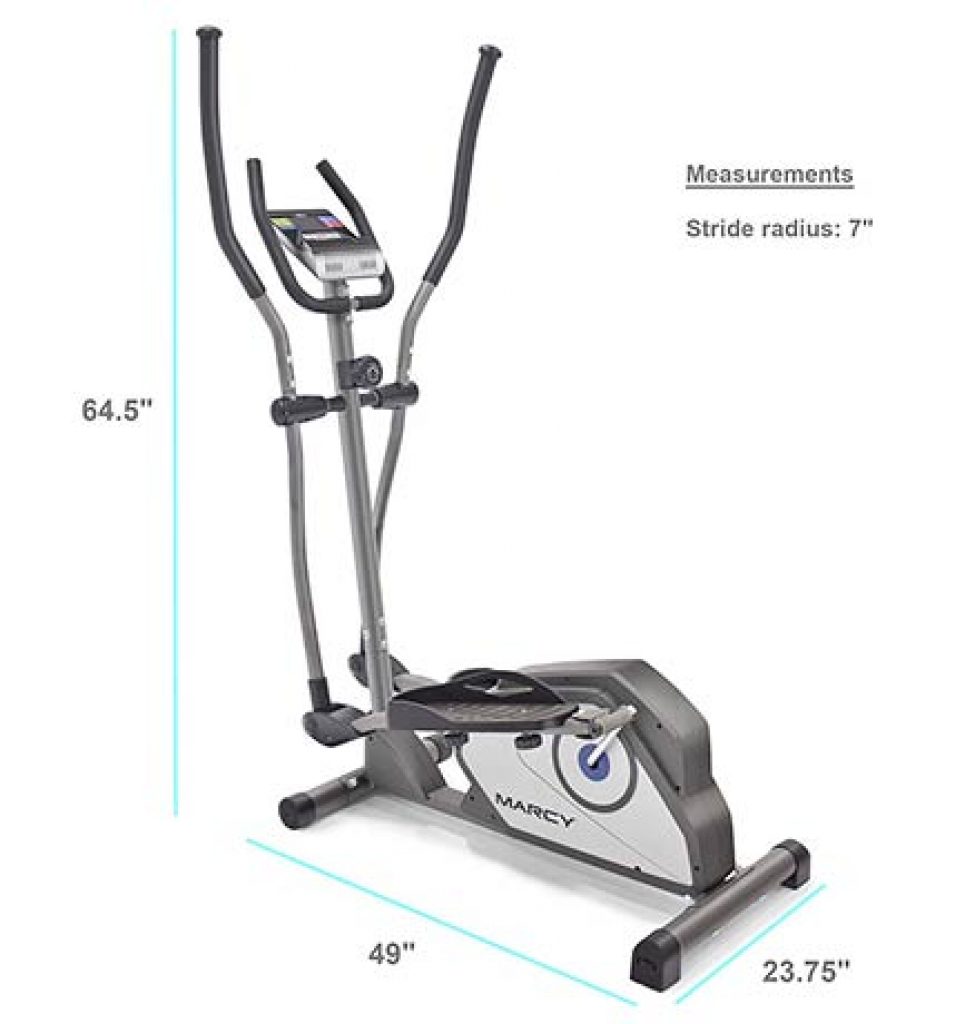 This is a compact elliptical, so it has a small footprint and fits easily into most rooms. It's easy to put together but, if you're not mechanically inclined, a professional assembly is available.
All and all, this machine offers an inexpensive means of getting a quality workout in the comfort of your own home.
Extra-large pedals
Eight magnetic resistance levels
Ergonomic design
Battery-powered LCD display
Small footprint
Transport wheel
Two-year warranty
Assembly required
Higher price
No products found.
EFITMENT Compact Magnetic Elliptical – E005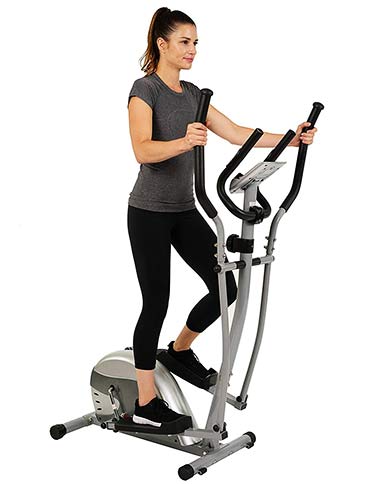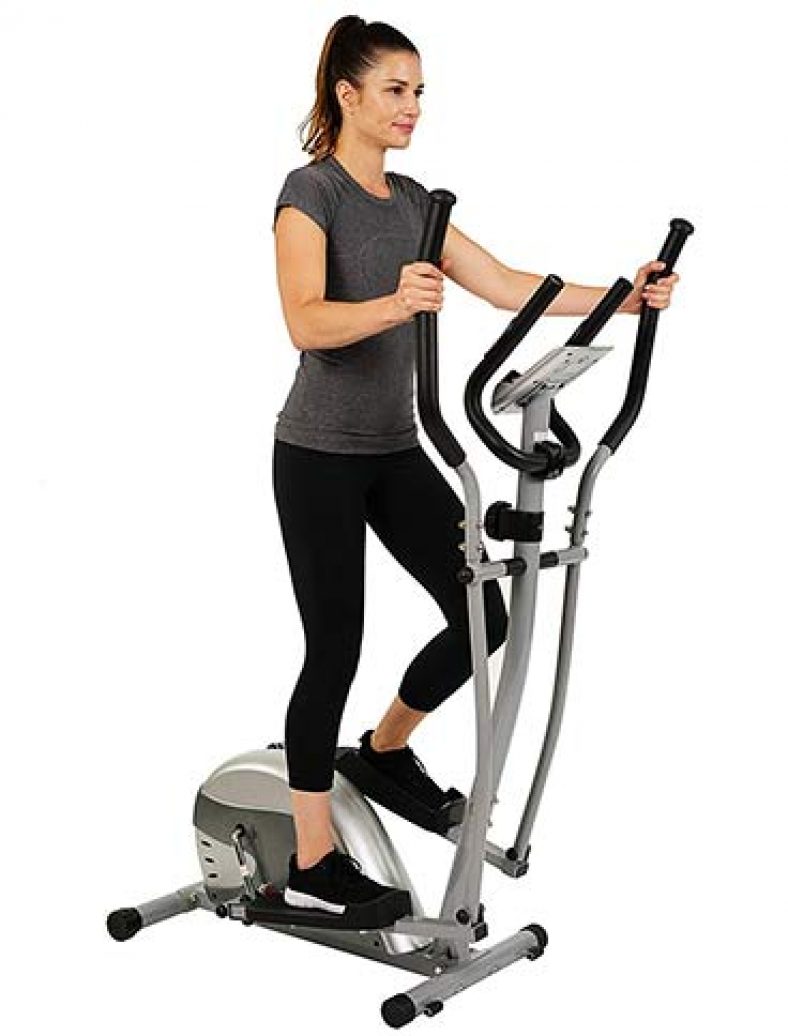 This affordable elliptical deserves a hard look from anyone who doesn't think they can afford a home exercise machine. The inexpensive E005 features a belt-driven, magnetic elliptical trainer with a compact design that makes it a great choice for tight spaces.
Its short stride length of only 11 inches gives this elliptical an incredibly small footprint, so it's easy to find room for it in your home. It also has transport wheels so you can easily store in a corner or a closet when you're not using it.
This machine 's smooth motion provides a zero-impact workout that strengthens and tones your entire body.
A lot of compact elliptical machines can have problems with wobbling and overall stability. EFITMENT included a feature with E005 to address this problem. On the ends of the machine's legs are small, adjustable stabilizers.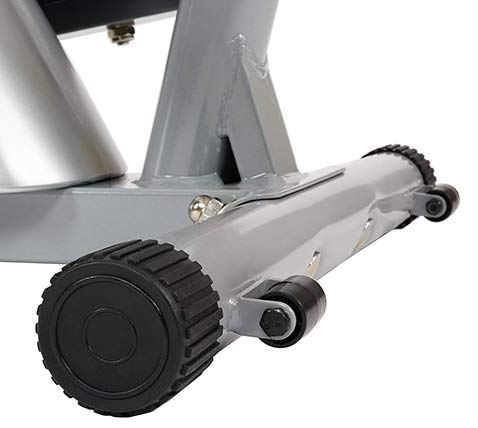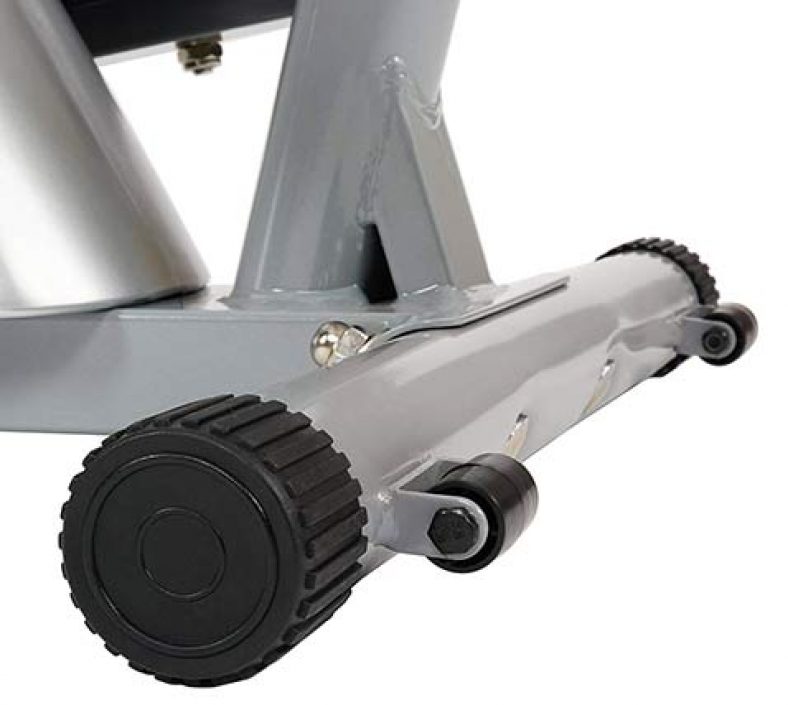 If the machine wobbles during use or isn't sitting even, you can adjust the leg stabilizers so that the machine sits in place securely during use.
This machine includes a few miscellaneous features that make it convenient for home use.
First, it takes up very little space in your home because of its compact, 11-inch stride length, so it's a great choice for smaller spaces like condos, apartments, or small rooms.
The E005 also has a convenient media rack on the console so you can enjoy your phone, tablet, or other media at while you exercise. Heart-rate sensing panels are built directly into the machine handles, monitoring your vital signs and displaying them on the LCD console.
Built-in heart rate monitor
Leg stabilizers
Eight levels of magnetic resistance
Compact design
Digital display console
Transport wheels
Phone & tablet holder
Body Rider Fan Elliptical Trainer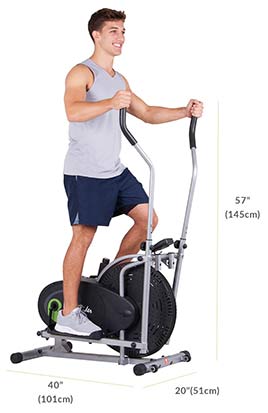 When you are looking for a basic, inexpensive machine to use for training at home, the Body Rider Fan is a great choice for the spartan athlete.
Its low price makes it a great value for anyone looking for an affordable way to exercise at home. The machine's flywheel uses a chain, not a flimsy belt, to drive the fan so it's more durable.
Pedaling is quiet and smooth, and the machine's compact design means it will fit in nearly any corner or room. It even comes with a free exercise guide to help you get started with your exercise routine.
Out of all the machines on our list, this one has the most discreet profile and fits easily in almost any room in your house.
The smart display panel is very low set, giving you a clean field of view in front of you while you exercise so you can watch TV without obstruction.
It has a particularly small footprint of only 35" by 20" so it can fit just about anywhere in your home.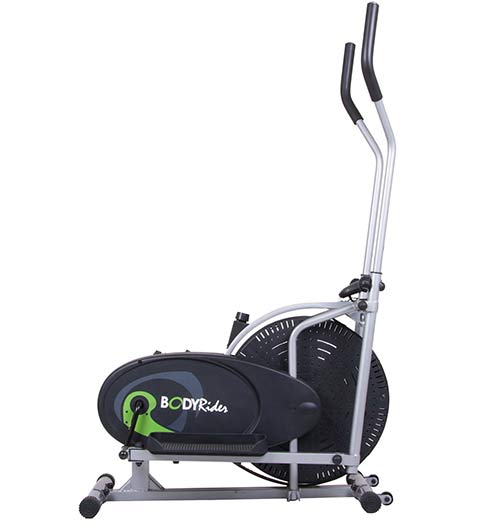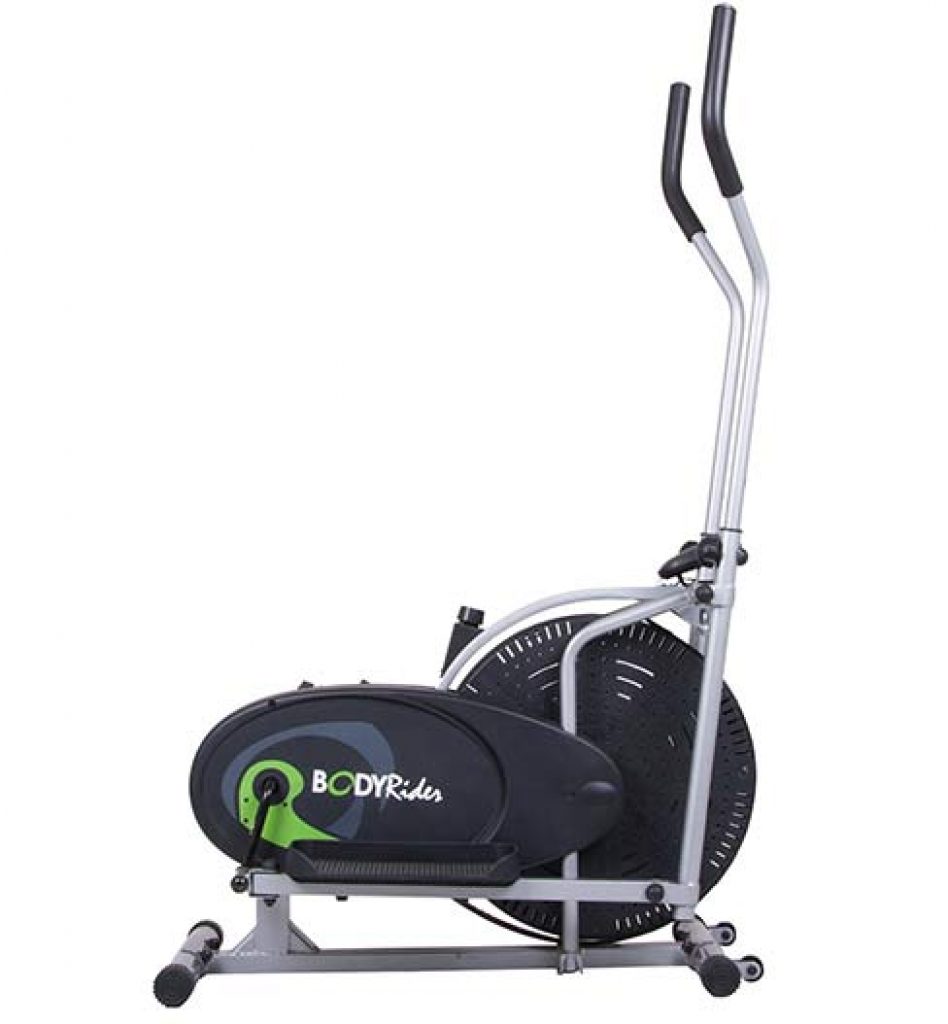 This patented design uses the energy generated from your pedaling to drive an internal fan wheel using a chain. The result is a smooth motion and surprisingly quiet operation.
The ergonomic handlebars are padded for increased grip comfort and can be used to simultaneously work your upper body while you are exercising.
Chain-driven flywheel for smooth pedaling
Adjustable friction resistance
Motion handlebars
Multi-function display unit
Free video exercise guide
Lightweight
One-year limited warranty
Inexpensive
Sunny Health & Fitness P8300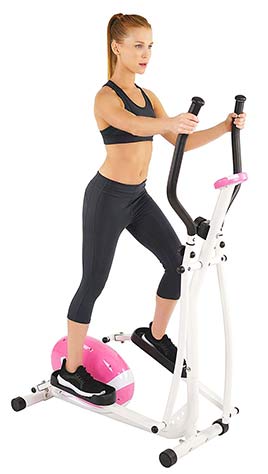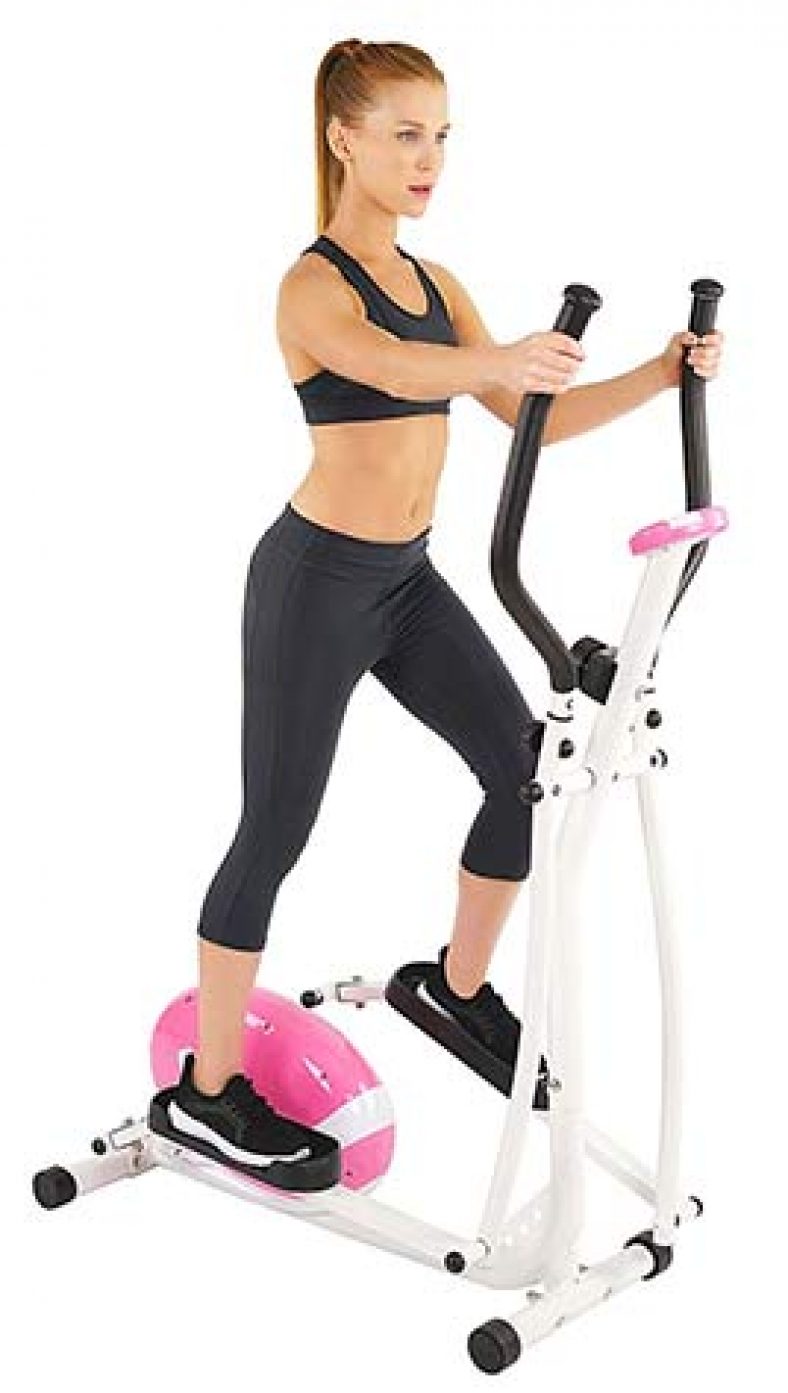 If you don't want an ugly hunk of grey work out equipment blemishing your room, the Sunny Health & Fitness ellipticals eye-catching pink and white color scheme will brighten up any room.
However, there's more to this machine than a pretty paint job. This light-weight, the compact machine can serve as a foundational part of your home exercise program.
Simple and affordable, this machine gives you access to gym-quality aerobics training in the comfort of your own home.
Its compact design and short, 11-inch stride length make this machine a small obstacle in comparison to other fitness equipment, and when you're not using it you can easily store it obtrusively in the corner using the handy, built-in transport wheels.
This machine features a sturdy steel frame to ensure that it can stand up to regular use. Its metal parts also have a special coating to help prevent rusting, so it's a great choice for areas with a lot of moisture in the air, like humid-climates and basements.
The leg caps have built-in floor stabilizers so, if your machine is wobbling or not sitting evenly, you adjust them to compensate for the lean and stabilize the machine.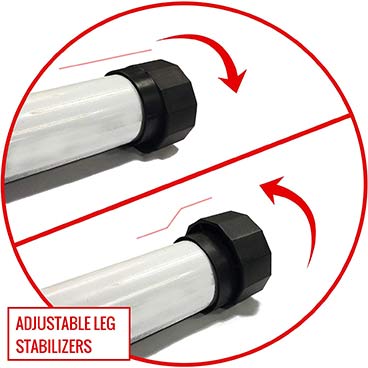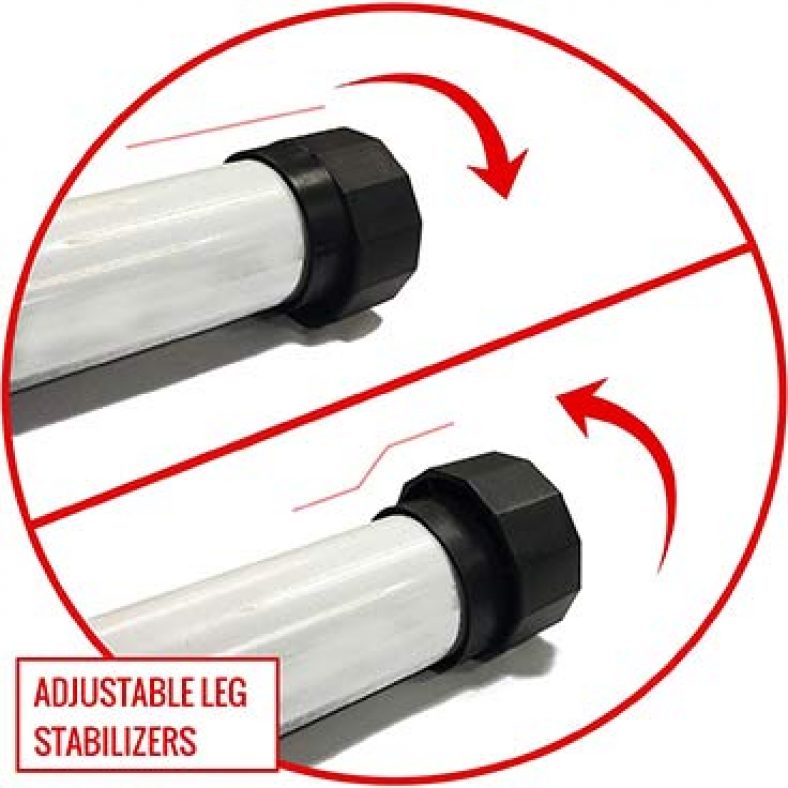 You can also exercise your upper body while exercising with this machine by using the ergonomic, full-motion handlebars. Both handlebars are covered with padded foam, increasing grip comfort and improving stability. Complete with oversized pedals, the machine provides a great base for both upper and lower body exercise.
A bold pink color scheme
Padded, ergonomic handlebars
Display console
11" stride length
Floor stabilizers
Eight magnetic resistance levels
Best Value: BodyRider Fan BR1830
When you want a basic platform for cardio exercise with no bells and whistles, the BodyRide Fan is an ideal choice.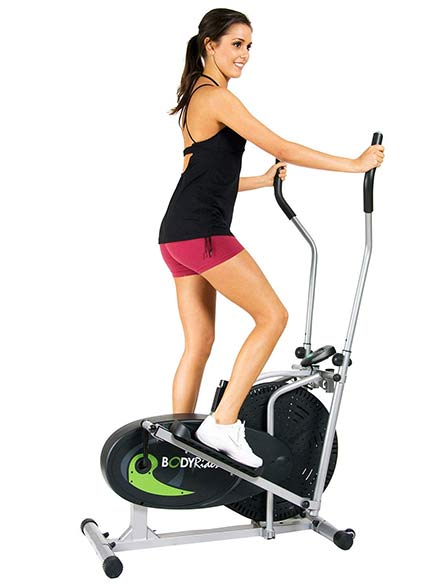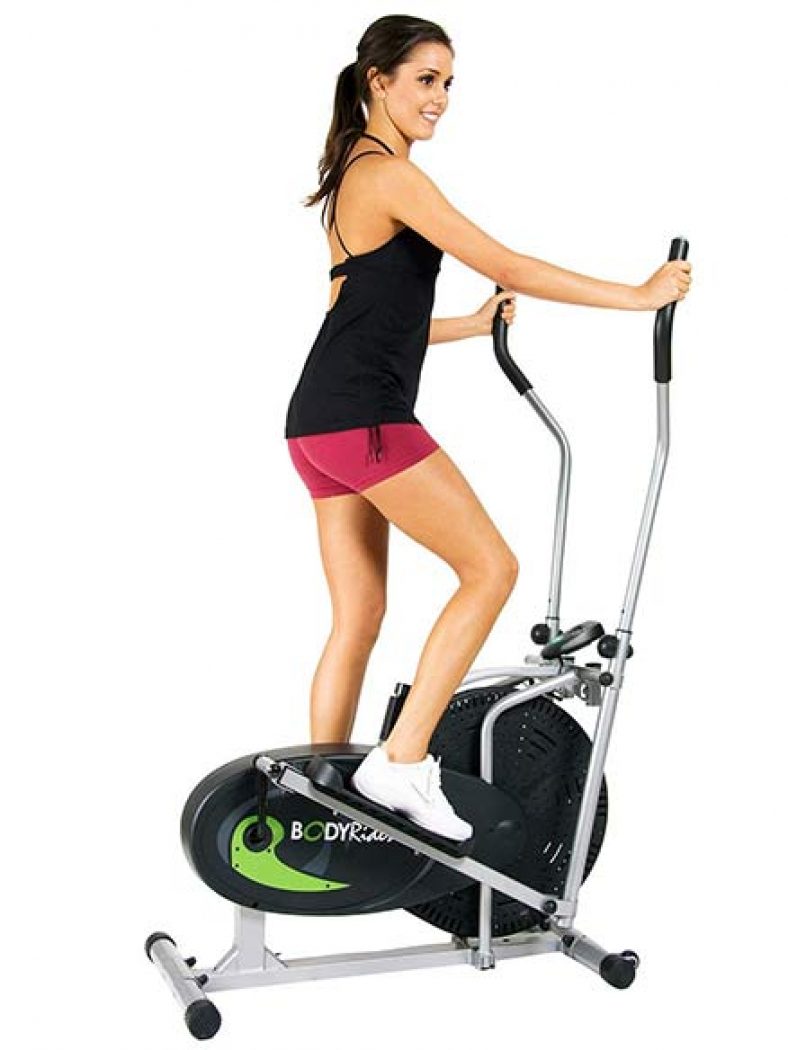 It has everything you need to start an effective in-home cardio training program, like eight different settings of resistance so you can continue to challenge your muscles as progress in your training. It does everything you would expect an elliptical machine to do, and it even has a manufacturer's warranty in case there's a problem.
You get all this for the lowest available price on our list, making the BodyRider Fan Elliptical our choice for best value.
Best for Beginners: EFITMENT E005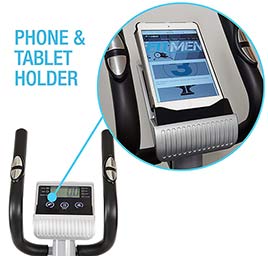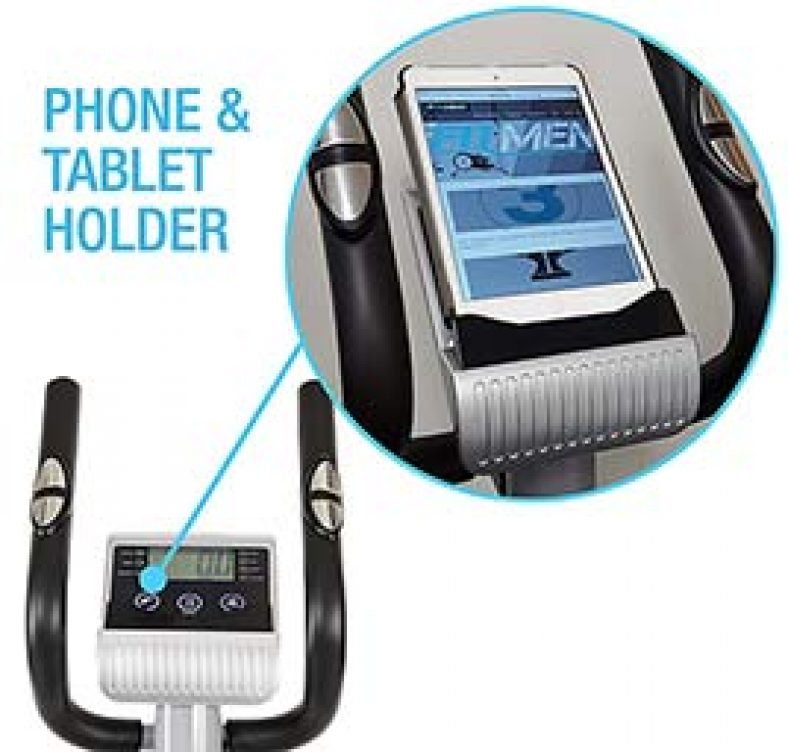 When you just starting a new exercise program, you want a machine that is comfortable to use and inexpensive.
You're starting a new hobby, so you don't want to shell out tons of money. What if you don't like it? It also needs to be comfortable and enjoyable to use, so it's easier to stick with your new routine.
The E005 combines those attributes in beautiful harmony, with a full-featured machine at a middle of the road price. It even includes a rack for your tablet, phone, or other media so you can keep yourself entertained while you exercise.
Best for Larger Users: ANCHEER Elliptical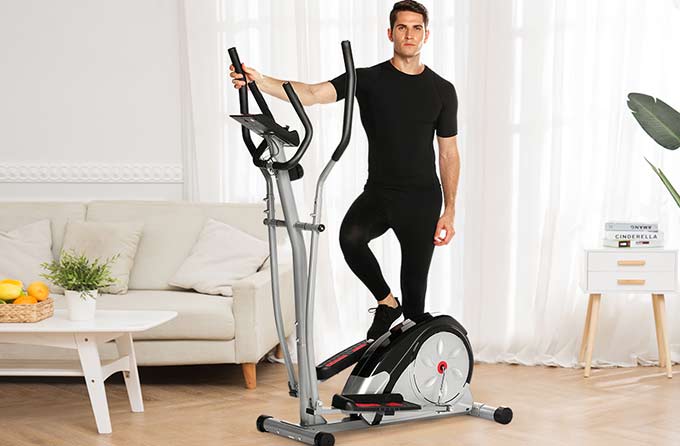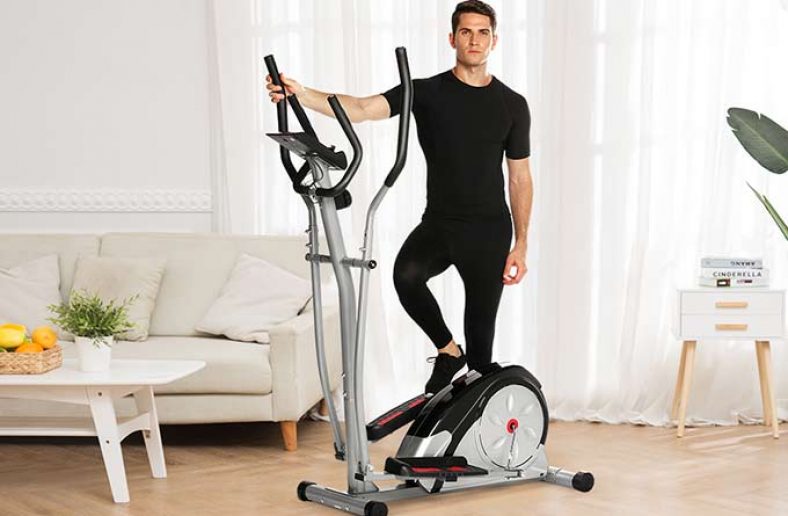 Some of the models on this list just aren't built for big guys. Most of them can only support up to 220 lbs of user weight. However, we kept the big fellas in mind when we put together our list.
The ANCHEER Elliptical is a great choice for users weighing over 220 lbs. It company lists the machine's max capacity at 330 lbs. It's also the heaviest machine on our list, so it provides the greatest amount of stability for larger uses by providing a heavy, stable exercise platform.
"Are these machines hard to assemble?"
For the most part, no. There are easy to assemble for anyone with basic hand tools and some semblance of mechanical ability. However, if you're not mechanically inclined, a professional in-home assembly is available for a fee.
"Are compact ellipticals easy to store?"
Compact ellipticals are designed to take up as little space as possible. Additionally, they all have short stride lengths so that they need less room to operate than traditional ellipticals. This makes it easier to store than regular machines because they take up less space. However, these machines also have built-in transport wheels so you can easily move them out of the way when you are finished exercising.
"Are compact ellipticals a good option for people with joint pain?"
Yes, ellipticals are a great fitness platform for people with joint pain. The motion of the elliptical is nice and smooth, so there are no jerking motions to put undue pressure on your joints. The exercise motion itself is considered to be low-impact, meaning that the pressure put on your joints by your shifting body weight is low. This is thanks to the ellipticals smooth motion, which allows you to easily transition your weight without shocking your joints.
"Do these ellipticals require power?"
No. These elliptical machines do not need to be plugged in in order to function. However, the monitor units on the machines often require small batteries to power them and display your exercise information.
"Can the displays on these machines show my heart rate?"
Only one machine on this list, the ANCHEER Elliptical, has a built-in heart monitor. It has panels on the handles that can read your pulse when your rest your hands or wrists on them. Once it reads your pulse, it will display the results on the main panel. The other four machines do not have a built-in heart monitor, and the console unit only tracks basic information like time, distance traveled, etc.