Whether you are a hardcore road warrior or hiker or a person who is getting back into a fitness routine, having a fitness watch, or "wearable tech," can help you achieve your health and performance goals. Fitness watches offer much more than the time: they also track and provide real-time information and updates with activity trackers, GPS capability, and heart monitors. Many watches on today's market range from simple, with more emphasis on stopwatches than tech, to more complex functions that also download to your smartphone or computer. There is a fitness watch for everyone that matches their fitness level.
With the rising popularity of fitness watches over the last decade, a variety of brands have flooded the market. It can get confusing and downright overwhelming at times to find the watch that's best for you and your fitness goals. That's why our buying guide can make the process easier for you to get the wearable tech you need to run that ultramarathon or take your first steps toward a 5K race.
This guide will focus on the highly-rated Polar fitness watches. Our review examines the Polar FT7, the Polar Ignite, and the Polar Vantage V Titan watch so you can find the model that matches your lifestyle.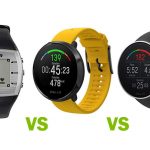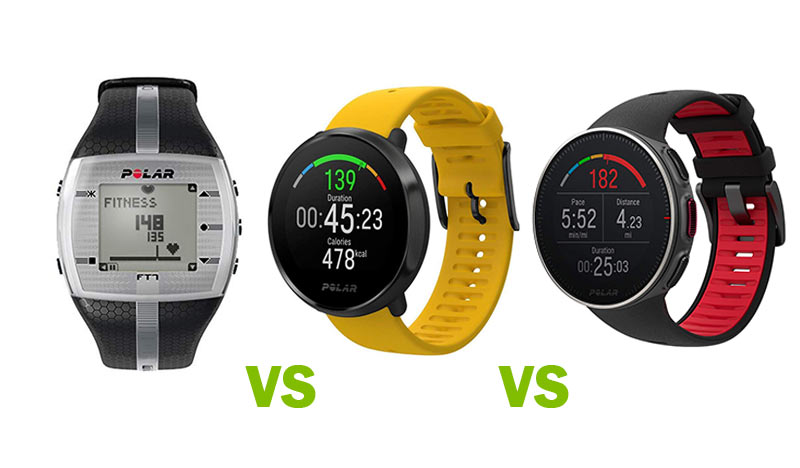 Polar is an established company that has offered sports and fitness tech since 1977. They have been a leading figure in athletic support with a focus on sports, physiology, and technology and a keen sense for what customers want in a fitness watch. Polar offers a comprehensive range of products and emphasizes their core goals as helping people engage in and enjoy a healthy lifestyle, aiding in weight management and rehabilitation, and improving an athlete's performance.
You may also interested: Ticwatch E vs. Ticwatch S vs. Ticwatch Pro Fitness Watch
Standard Features to Look for in a Fitness Watch
Although there are many fitness watches on the market, they are not all equal. Electronic watches have come a long way from the earliest manifestation of the Fitbit, and they can offer virtually everything under the sun. The extras will appeal to people who want those amenities on their watch. Regardless of what watch you want, make sure you carefully consider what features you need so the watch doesn't end up useless to you in a year or so. Here are five standard features every fitness watch should have.
Consider your level of fitness and your exercise habits before purchasing a watch. Are you training for a triathlon? If so, you will want a watch that is durable enough to withstand demanding environments and underwater conditions. However, if your main avenues of fitness are walking around the neighborhood or cycling through the local park, you probably don't need a watch that is waterproof up to forty feet. All fitness watches should be durable, but how much resilience your watch needs will depend on the types of fitness you intend to use it for.
Because wearable tech can be used for more than performance-based or strenuous athletic activities, you want a watch that is comfortable to wear around the clock. Many fitness watches track the number of steps you take or give you an analysis of your sleep habits. A bulky fitness watch that fits awkwardly or uncomfortably is unlikely to get used often. Take note of the comfortability and design factor if you plan to use your watch for more than just a workout.
Computer or Smartphone Integration
Although fitness watch screens provide you with the workout details you need during and after exercise, the smaller screen can make it tough to examine the details in depth. A watch that includes computer or smartphone integration can transfer that data to a platform that is easier to read and analyze. Some integration also allows for extra features such as receiving notifications about your workout statistics and reminders to get out there and get moving. Be sure to select a fitness watch that is compatible with your phone or computer.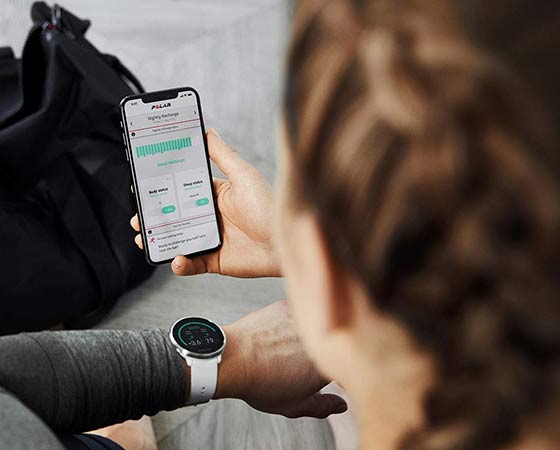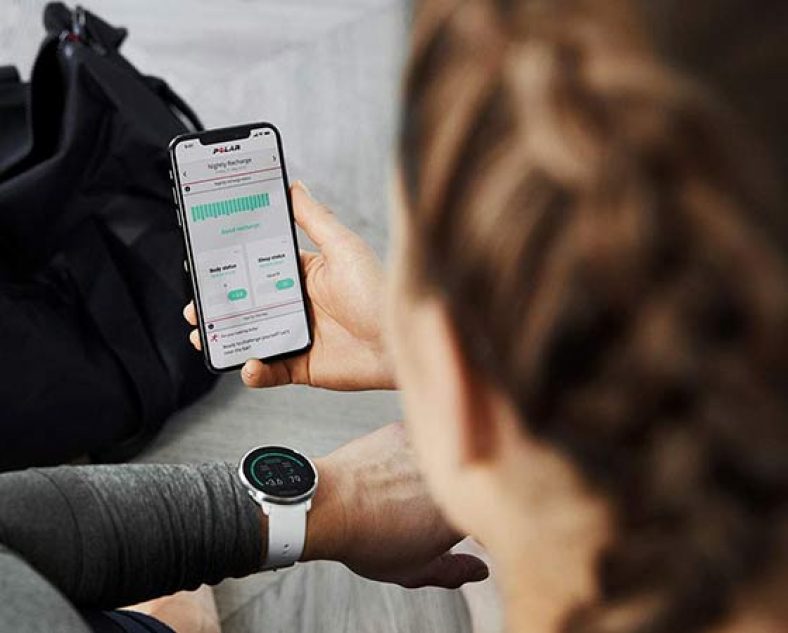 Many wearable tech items offer more than just monitoring activity levels. Standard amenities in fitness watches include sleep trackers and heart rate monitors. Sleep trackers can help you resolve any sleep issues like insomnia, or you can learn about your sleep habits, such as giving you information on how long you sleep per night and the quality of your sleep. A heart rate monitor is a useful means by which to maximize your workout by achieving and maintaining a certain heart rate.
There are several mechanics that fitness watches use to track your activity.  An accelerometer is generally used by most wearable tech gear to detect your movement. Some watches may use altimeters and gyroscopes to develop a more in-depth report of your activity levels. However, you may get different overall results from wearing two different fitness watches or trackers while exercising. If you want more precision to your workouts, choose a fitness watch with GPS capabilities.
Fitness watches provide you with an easy and practical way to track your health goals. Use our guide to choose a Polar watch that fits your lifestyle and that you will use for years to come.
The Polar FT7 is an excellent training watch with rugged, no-nonsense looks and a variety of features to track your workout. With a data-tracking heart rate monitor, the Polar FT7's screen features an EnergyPointer feature that displays real-time information during exercise, so you know if you're improving aerobic fitness or burning fat. The FT7's heart rate monitor has a coded transmission to prevent cross talk.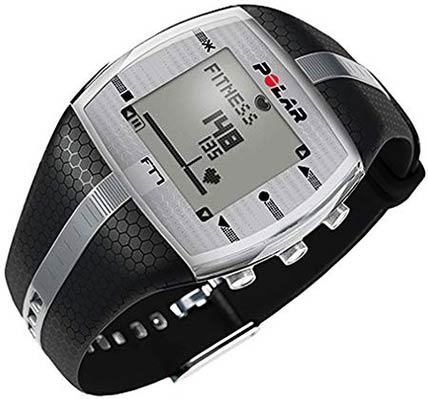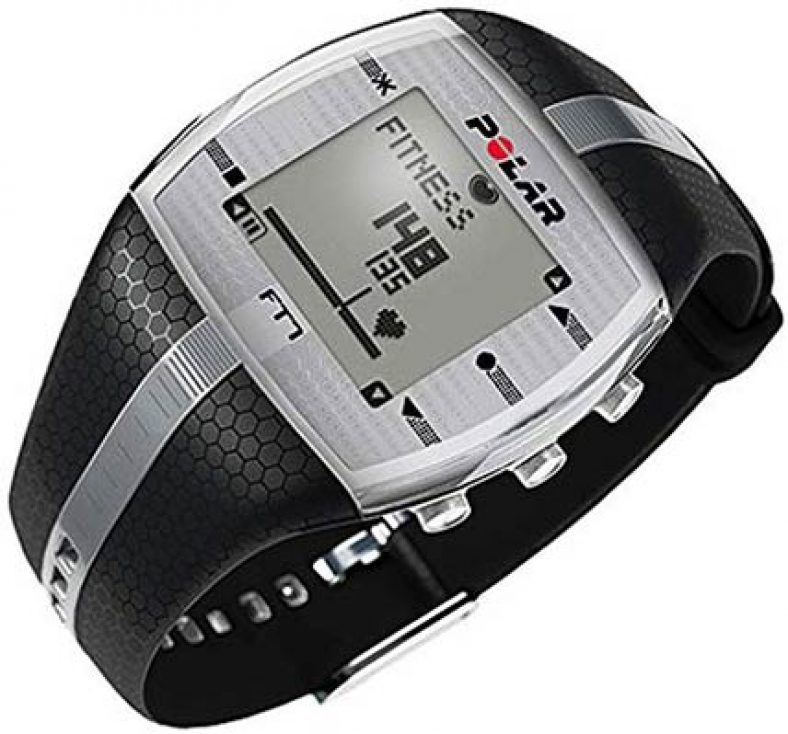 Pros
Smart Coaching EnergyPointer feature
OwnCal calorie counter
Web-based functionality with training diary and training programs
Data transfer compatible with Mac, PC, and polarpersonaltrainer.com
Transmitter on a chest strap
Body measurements
Coded heart-rate monitor
HeartTouch button-free wrist unit
Watch beeps when the user goes over the heart rate limit
Watch with backlight, KeyLock, and low-battery indicator
Water-resistant to 30 meters
User-replaceable battery
2-year limited warranty
Four color watches
Cons
Plain watch face
Alarm sound is too quiet
Watch light is too dim
No ability to customize your heart rate
Clunky design
Doesn't measure laps
The watchband is irreplaceable
Our Review
The Polar FT7 is a high-end yet budget-friendly fitness watch that provides more bells and whistles than simpler forms of wearable tech. This model offers a wealth of extra features that will move you closer to achieving your health and performance goals while having some fun at the same time. If you want a top-notch fitness watch without paying a high price, the Polar FT7 is the wearable tech you need.
Here are some of the top features of this model:
Coded heart-rate transmitter
The FT7 comes with a chest strap that features the Polar OwnCode 5khz coded transmission. This device prevents interference from other nearby devices, so you get an accurate heart rate every time.
HeartTouch Button
The featured HeartTouch Button on this model allows you to check the time and your heart rate reading. Push the button and bring the watch toward the chest strap and the screen changes on its own.
Target Zone indicator
The FT7 allows you to see the zone you are working out in graphically to help keep your heart rate where it needs to be.
EnergyPointer and target zones
This model lets you know if the exercise you're engaging in is leading to fitness improvement or burning fat. Manual target zones are customizable, and you can set the target zone you want that is appropriate for your training level.
Data transfer
Training information can be transferred to a PC, Mac, and through the polarpersonaltrainer.com website. The watch acts as a personal diary by recording, retaining, and transferring all your training information to your larger digital platform.
---
The Polar Ignite is an exercise trainer-sleep tracker-and meditation device all in one watch. For what the Ignite offers, its market price is reasonable. This fitness watch provides a smart coaching system, a sleep tracker and metric analyzer, and extremely precise heart rate monitoring. For athletes and exercisers who want to bump up the burn, the Polar Ignite is an ideal fitness watch to purchase.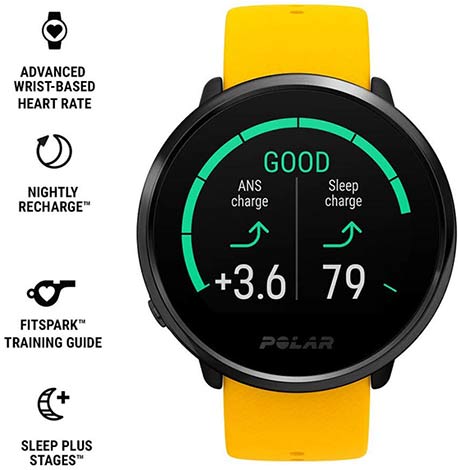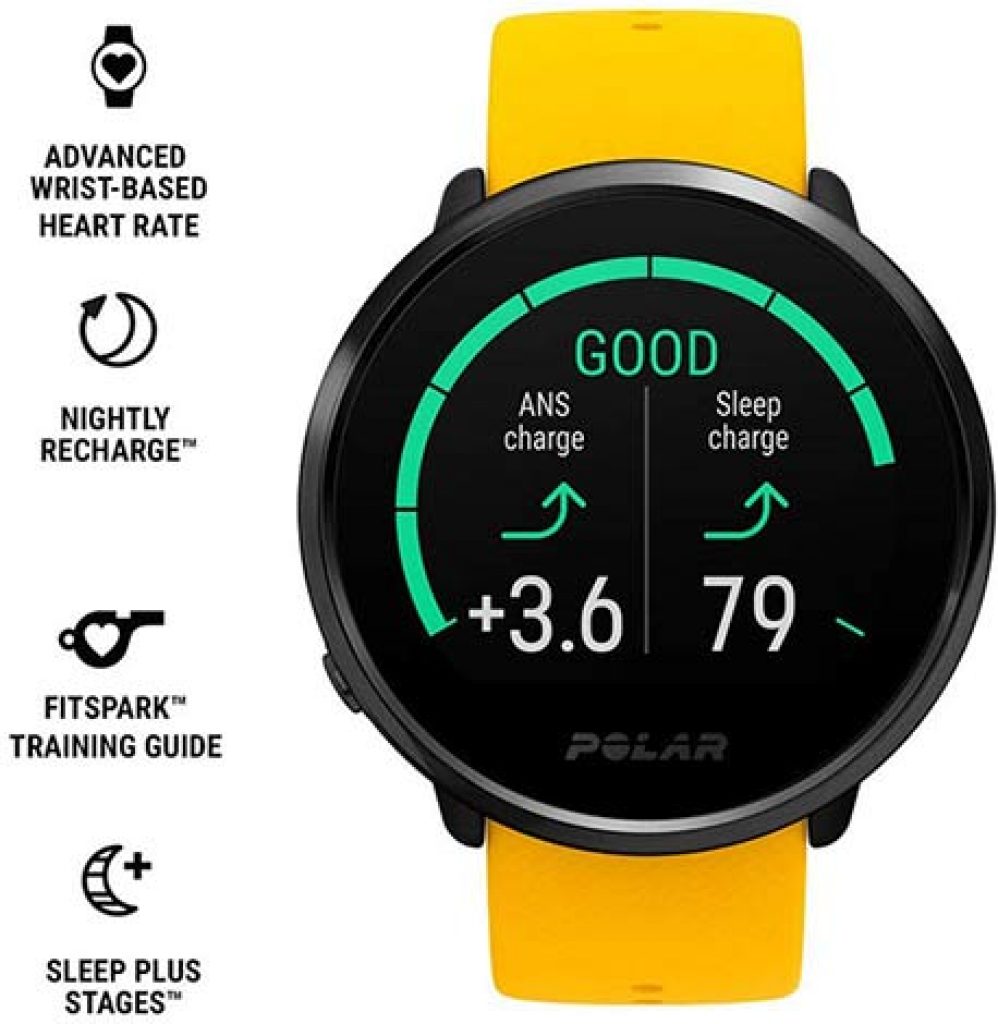 Pros
Integrated GPS and GLONASS for tracking speed, route, and distance
FitSpark training guide
Receives texts, phone calls, and email
Waterproof
Sleep Plus Stage tracking feature
Includes serene, meditative, guided breathing exercises
Nightly Recharge Recovery measurements
Access to the #Polarignite social media community
Polar Precision Prime heart rate monitor
Swimming metrics
Electronic notifications
Cons
The watch screen is distracting and lights up when you move during sleep
Battery life is shorter than expected (2 days)
Sync issues may occur
Only two watch face options
GPS accuracy can be spotty
Watch face isn't very touch-responsive
Our review
The Polar Ignite is a hands-on device integrated into your daily exercise routine. Priced reasonably for its output, the Ignite is an entry-level fitness watch that provides exercise statistics, heart rate monitoring, and sleep analysis. The sleek design and 165 mAh battery power make this piece of wearable tech a watch you will want to wear all the time.
These are some of the top features for this model:
Integrated GPS
The Polar Ignite is fully equipped with distance, speed, and route tracking, and the GPS connects very quickly so you can get started on your workout right away.
Nightly recharge
The Polar Nightly Recharge feature tracks and reports on your body's recovery during sleep so you can decide how tough the next day's workout should be.
Daily training guide
This fitness watch has the Polar Fit Spark Daily Training Guide that offers coaching and guided exercise routines based on your fitness level.
Precision Prime heart rate monitor
Polar's heart rate monitor on the Ignite watch includes state-of-the-art optical sensors and bioimpedance electrodes. You can take your training to the next level efficiently and safely with this monitor.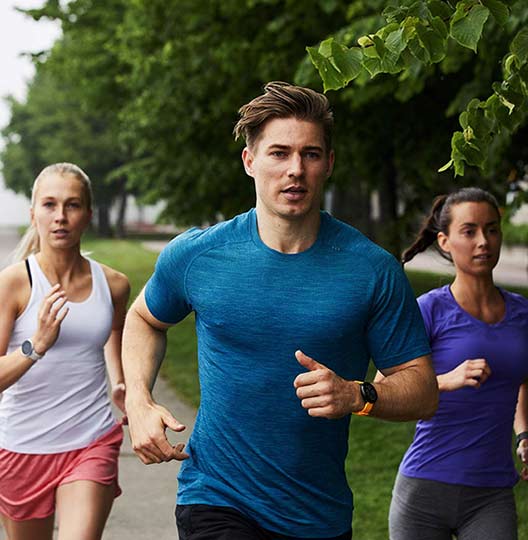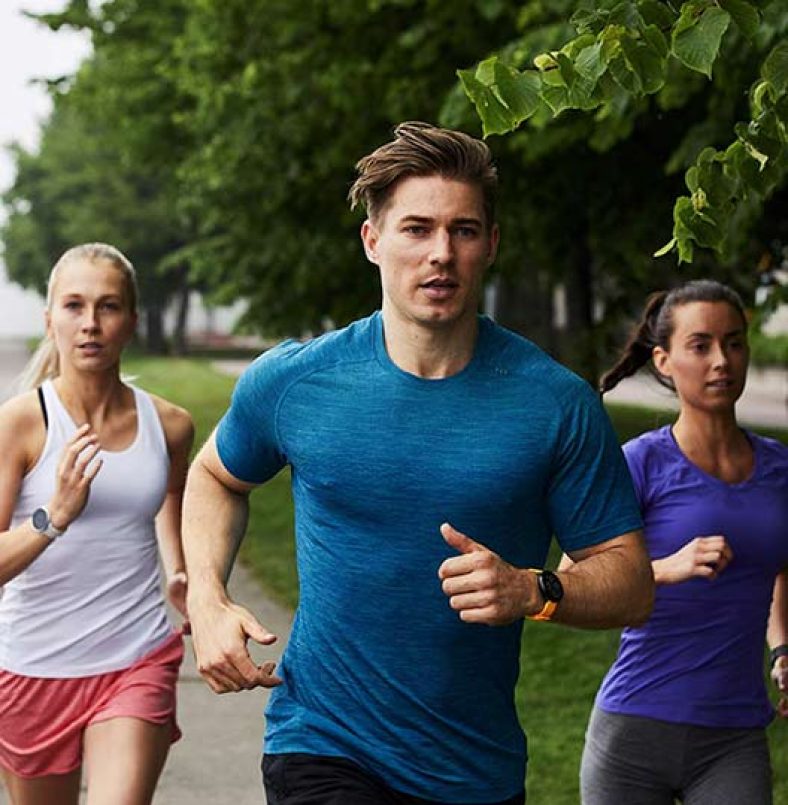 Advanced sleep tracking
The Ignite has a Sleep Plus Stages Analysis meter that tracks each stage of your sleep and reports the quality of your rest to you each morning. With this tracking system, you can make adjustments to improve your sleep if necessary.
---
The Polar Vantage V Titan is a higher-end fitness watch selection that combines multiple training features, the latest innovations, and top design. This watch is the first to use wrist-based running power which records your exercise output more accurately and efficiently without the use of belts, foot pods, or other connective devices. For individuals who are serious about their training, the Vantage V Titan is an ideal fitness watch.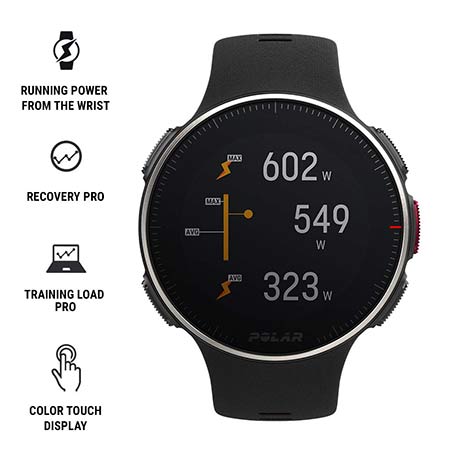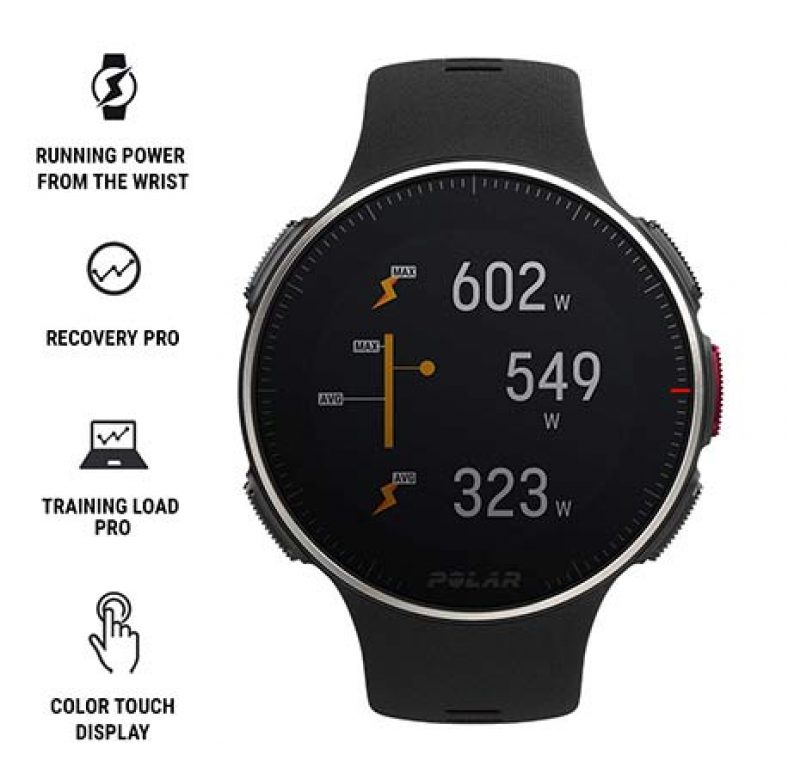 Pros
Wrist-based running power
Battery life up to 40 hours
Durable and waterproof
Heart rate monitor with Prime Sensor Fusion technology
Tracking for 130+ different activities
Training and recovery programs
Light, titanium case
Easy to read face
Fast sync to the PolarFlow app, Strava,
Textured, two-color wristband
Always-on watch face display
GPS and barometer
Scratch-resistant texture
Hydrophobic glass coating on the face
Route guidance
Cons
H10 heart rate sensor is available with the Pro edition only
GPS and OHR capacity is marginally better than competitors
Some biometrics require a dedicated chest strap
Backlighting has only one setting (on or off)
The charger can be difficult to connect correctly to the back of the watch
Our review
For complete training, it's hard to beat what the Polar Vantage V Titan has to offer. From remarkably accurate tracking to multi-sport functionality to a sleek yet practical design, the Vantage V Titan is every triathlon participant's dream watch. Whether you're preparing for a 5K or a 100-mile cross-country trek, this watch will accompany you comfortably and efficiently every step of the way.
Wrist-based running power
The Vantage V Titan is the first watch to use wrist-based running power to accurately track your time, distance, heart rate, and pace. There are no attachments or pods to place in your running shoes. Just put on the watch and go.
A powerful and viable heart-rate tracker
The Vantage Titan HRM tracker is sensitive for a more accurate heart-rate reading. The HRM tracker also doubles as an activity tracker for over 130 sporting activities.
Practical yet premium design
The Titan is durably made with a titanium case yet designed to be lightweight. The screen is clear and easy to read, and the glass face covering is hydrophobic for unimpeded tracking in the pool or lake or when you are out running in the rain.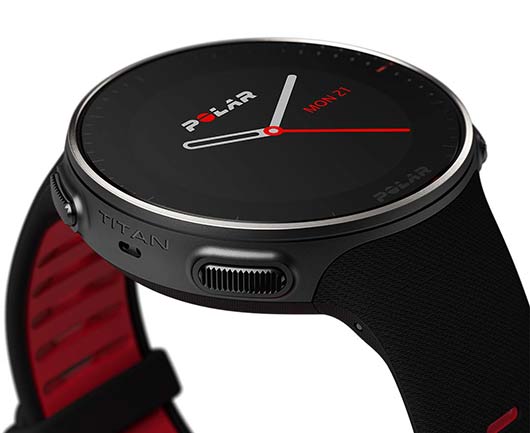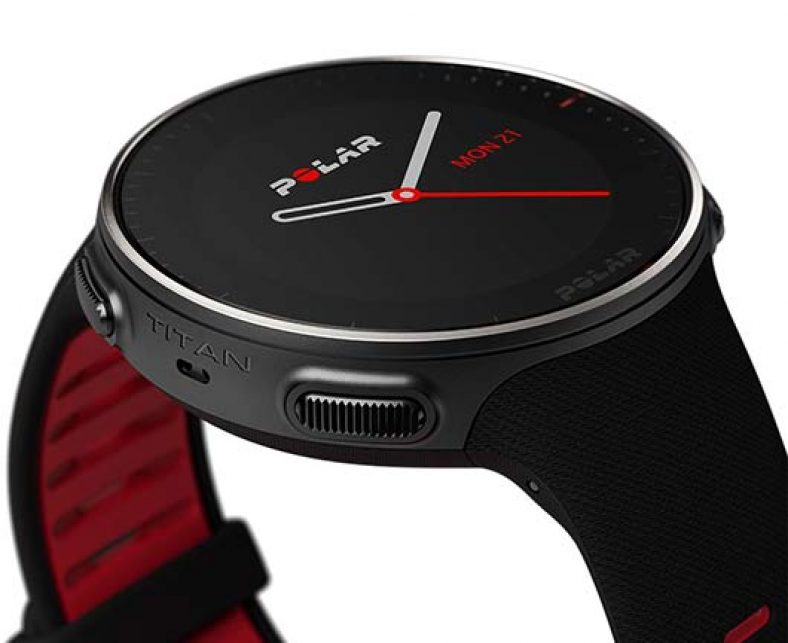 A variety of training options
This fitness watch comes pre-loaded with Training Pro, to help you train properly during exercise, and the Recovery Pro, which gives you reports on your recovery and sleep levels to prevent injuries and overtraining.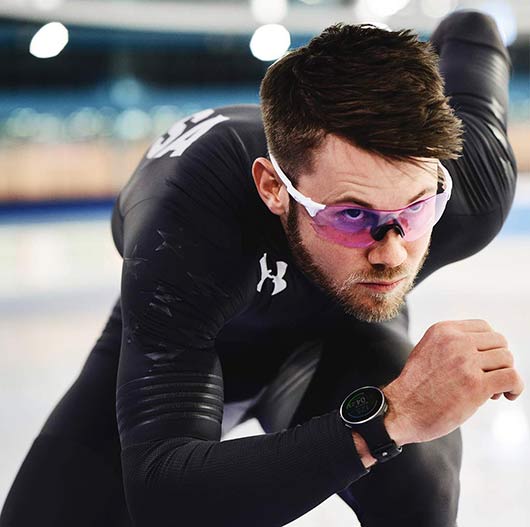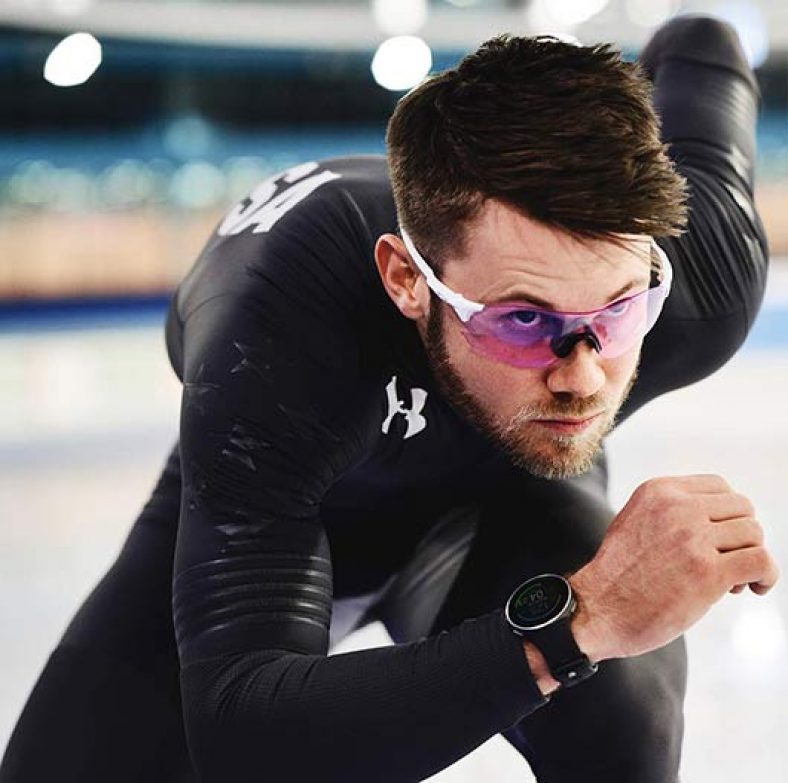 Long battery life
With up to 40 hours of battery life with the GPS and HRM activated, the Vantage Titan will reliably be there recording your workouts, whether you're swimming ten miles or running a marathon. Throw yourself into the toughest, muddiest events, and the Titan will have your back.
What's the Difference Between these Polar Watch Models?
Which model is better: the Polar FT7, the Polar Ignite, or the Polar Vantage V Titan? The answer depends on how much a fitness watch is worth to you and what kind of and level of athletic training you're involved in.
If you are on a budget, beginning a training program, or just casually exercising, the Polar FT7 is an excellent fitness watch option. It is more than reasonably priced and comes with everything you want in wearable athletic tech with a little extra as well. With a coaching and calorie counter feature, as well as a sleep tracker, the FT7 can do much more than just help you meet your fitness and health goals. It functions as an all-around tool to help you achieve maximum health while exercising and living your life.
How is the Polar Ignite different from the FT7? The Ignite offers what the FT7 does, but at a higher level. Slightly more expensive than the FT7, the Ignite is a watch suited for people who are ramping up their exercise program. For water sports participants, the Ignite is the go-to fitness watch for accurate heart rate, mileage tracking, and waterproof capabilities. It also features a more finely tuned and sensitive Sleep Plus Stage tracker, syncs easily with smartphones and computers, and can receive emails, texts, and phone calls. For workout enthusiasts who are stepping up their routine, the Polar Ignite is an excellent fitness watch.
The Polar Vantage V Titan is a pricier fitness watch that has far more capabilities than either the Ignite or FT7. The Titan is a cutting edge tool that uses wrist-based running power, and its many training and recovery programs make it stand out from its competition. It has an extensive battery life for serious athletic competitors who train or participate in long-distance, time-consuming races and challenges. The Vantage V Titan is ideal for the hard-core athlete who needs more than just an effective heart-rate monitor and GPS tracking and guidance.

Whether you are beginning an exercise routine or preparing to run your next marathon, the Polar offers three excellent fitness watches that cover all exercise and athletic levels. Choose the watch that best fits your fitness and health goals and your budget. No matter what Polar watch you purchase, your exercise session will be covered from start to finish.