If you're looking to run for fitness, 3G Cardio treadmills should be on your radar.
These treadmills can all be your next step towards losing weight at home.
While all of them can be used to run, they have their differences.
Among them, motor capacity, the number of programs, and even heart rate measurements are characteristics that make them different.
Apart from pricing, these treadmills have their strengths and weaknesses as follows.
Folding vs non-folding 3G Cardio treadmills
When you're buying a treadmill, you are inclined to look at things such as motor capacity (measured in horsepower) or the number of workouts (running plans). But you should also consider where in your home the treadmill is going to be used and stored. If you don't have enough room to store your treadmill at home, you should consider a folding design.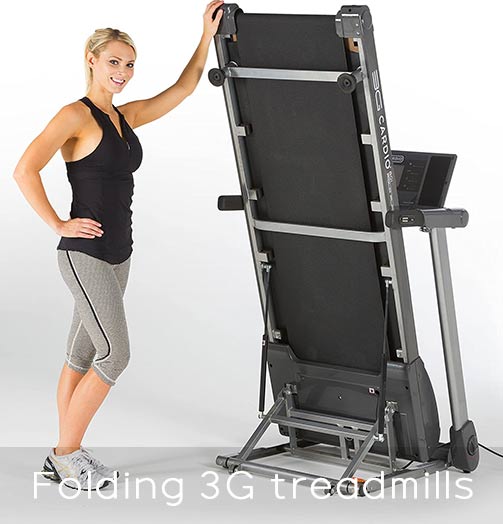 Out of all of these 4 treadmills, only the Elite Runner Treadmill doesn't come with a folding design. With a commercial-like build, this treadmill is mainly made for top-level users who don't value its foldability as much as the occasional user. For this treadmill, you should ensure there's sufficient space in your home for non-folded storage (it measures 84″ L x 35.5″ W x 58″ H).
But how much space would one of these folding treadmills save?  The length savings by folding the treadmills are considerable. For example, the Pro Runner treadmill has the dimensions of 74″ L x 35″ W x 58.5″ H when assembled. But when folded, it has the dimensions of 40″ L x 35″ W x 65″ H. This means you save 34" in length when folding the treadmill, which could be equal to just enough space to open a door or to add a chair next to your treadmill. For small homes or apartments, the folding capacity could be a deal-breaker. Let's look into each treadmill and what they bring to the table in detail.
---
3G Cardio Treadmills Elite
The most expensive of the treadmills is also the most complex. As previously discussed, it doesn't fold but it outperforms the other treadmills. If you're an athlete or a dedicated trainer, it's the fitness equipment that most appeals to you. Here are some of its specs.
A powerful 4.0HP motor is added to this treadmill. It's the strongest motor from the manufacturer.
These types of treadmill motors are normally seen in the fitness equipment of commercial gyms where they're under stress multiple times per day.
A maximum user weight of 400lbs is also supported by this treadmill. This weight is also closely tied to the motor. It's the type of motor that doesn't show any slowing down even when overweight users are running on the treadmill.
The suspension system used on the treadmill is made by OrthoFlex. This cushioning system is reliable and it dampens some of the running shocks. It's so successful that 3G Cardio Treadmills decided to use it on all of its products.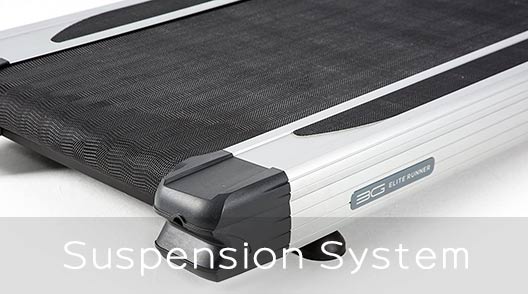 Warranty is also comprehensive on this treadmill, even when used at the gym. It's backed by 5 years of warranty for the motor and 5 years of warranty for the frame when used in commercial settings such as gyms. When used at home, it benefits from a lifetime warranty for the motor and frame and 10 years of warranty for the. When you install it at your gym, the treadmill's labor costs are also covered for up to 1 year.
No products found.
---
3G Cardio Treadmills Lite Runner
We like the Lite Runner for its affordability and general practicality. This treadmill is the most affordable option of getting into running from the manufacturer which makes it a value-driven proposition. Still, there's a 2.4HP motor with 2" rollers underneath the hood here.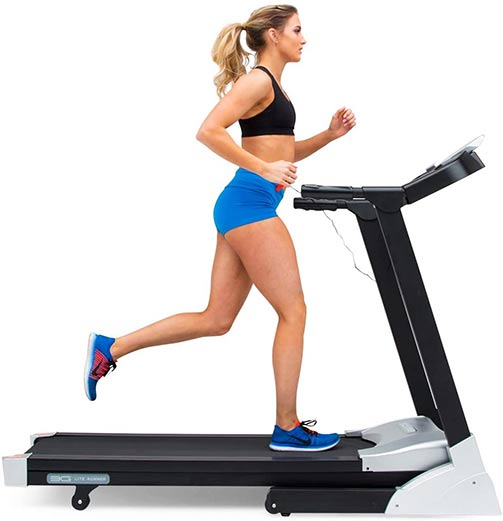 The treadmill also features a folding design. With folded dimensions of 32″ L x 29 ¾ " W x 62 ½ " H, it's the most compact treadmill from the manufacturer and also one of the smallest on the market. From this perspective, it can even be more tempting than the more robust treadmills from the brand, especially if your home is not necessarily known for its spacious rooms.
Like all of the treadmills from 3G Cardio, it has an incline range between 0% and 15%. This makes it a value proposition if you simply like to simulate uphill climbs and if you don't necessarily feel like running every day. What we do miss on this treadmill (compared to the 80i) is the MP3 function which doesn't allow you to listen to music on longer climbs.
As the lightest treadmill, the Lite Runner is also limited in terms of maximum user weight. It only holds up with users up to 275lbs, which doesn't make it the number one choice if you're heavily overweight looking to lose some weight.
On the other hand, this lower weight capacity doesn't hinder its warranty profile. You still get a lifetime warranty for the frame and motor and 3 years of parts warranty. These policies only apply for residential use as it's not designed to be used at the gym.
---
With 8 built-in programs and 4 custom programs (compared to no custom programs on the Lite Runner), the 80i treadmill is a real performer. These programs are perfect for those looking for a bit more running workout variation.
But the most important features and reasons to purchase the treadmill are given by its multimedia profile. It comes with built-in speakers and audio compatibility for iPhones and MP3 players. If you're the type of user who easily gets bored of all of the long-running sessions, you need to plug in your favorite tracks and carry on. The treadmill is made with such a multimedia profile.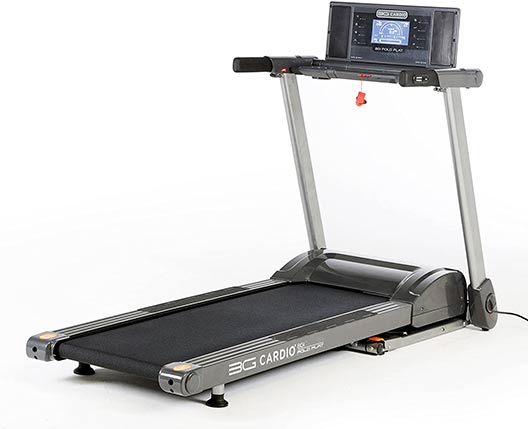 We also like the intuitive design of this treadmill. It comes with a fold-flat design and a vertical fold alternative. Both of these options are a true gift if you don't have a dedicated gym at home. At the same time, you might even want to consider the treadmill if you need a bit more room for your car if you're converting your garage into a gym.
The warranty of the 80i treadmill isn't bad either. You get a lifetime warranty for the motor and a lifetime warranty for the frame. The parts are covered for 5 years and labor is covered for 1 year. You can't use this treadmill at the gym, at least not without losing the warranty. It's only made for residential use.
---
Based on a 3HP motor (the same as the one used on the 80i treadmill), the Pro treadmill comes with a higher weight capacity (350lbs compared to 325lbs). It also comes with an anti-glare console which ensures perfect visibility even in direct sunlight.
But a major advantage (over the 80i treadmill) is the HR-ready feature. This means you can connect your chest strap to the treadmill to measure your heart rate. It allows you to enjoy your workout in a very specific heart rate zone, perfect if you're trying to lose weight.
Fitness testing programs are also included in this treadmill. These programs are made to show you just how much or how little progress you've made in your fitness journey. They measure your heart rate and the capacity to run at a certain pace for a certain time. It is just like having your trainer come and test you out.
The console on this treadmill might be simplistic, but it's very intuitive. Even if you haven't run on a treadmill before you know that '+' and '-' under the 'speed' category increase and decrease running speed. The same applies to the incline rockers which are also placed right on the handlebar in front of the runner. But you can also save your target speed at set intervals and jump to them as needed.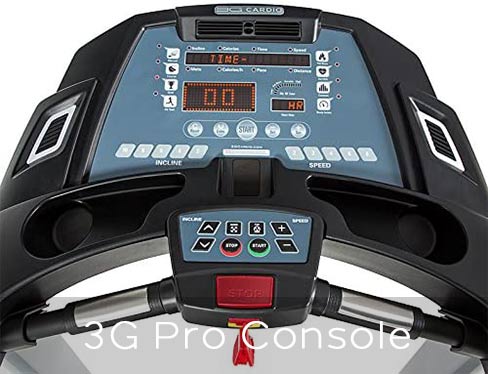 Bottle holders and smartphone holders are also included on the console. They give you the option of simply finding a quick place to store all of your belongings.
---
Which 3G Cardio treadmills should you get?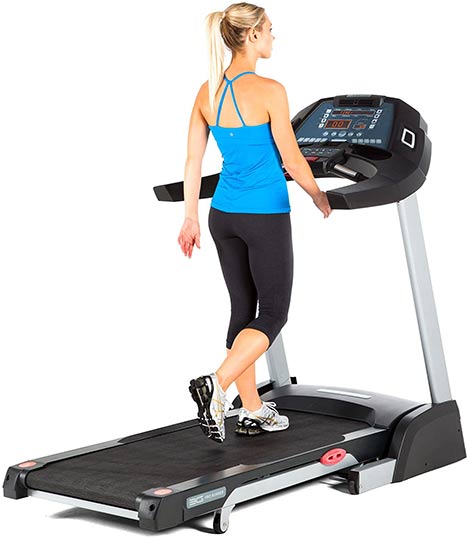 The real options in terms of ruggedness and advanced features such as heart rate monitoring are the Elite Runner and the Pro Runner. While similar in design, they are made for different users.
If you have your small gym, you can consider purchasing a few Elite Runner treadmills. They support heavy running and users of various weights. The high 400lbs weight capacity recommends it for such use.
If you're simply looking for one of the best treadmills to use at home, the Pro Runner has everything you need. A good cushioning system, plenty of incline levels, good workouts, and lifetime warranty. While not necessarily the most affordable treadmill with these characteristics, you certainly can't go wrong with it.
---
This is how they compare to the Xterra Fitness treadmills
Xterra Fitness makes budget treadmills that are also suitable for residential use. Their current best seller is the TR6.6 treadmill with its 3HP motor. With similar 15 incline levels and with a folding design, it can also be an option to consider at home. It's slightly cheaper than the Lite Runner treadmill, which can leave some extra budget when you also want other fitness equipment purchases for your home.
---
This is how they compare to the Horizon treadmills
We also like Horizon's treadmills. The T101, T202, and T303 treadmills are highly versatile as well. However, they have a limited incline level to 12% which is a bit underwhelming compared to the capabilities of the 3G Cardio Treadmills. If you want to simulate hill climbs and take a few steps back from running at full speed, the 3G Cardio treadmills are the best choice.
---
All 3G Cardio Treadmills are quality products. This can be seen in the comprehensive warranty policies they are backed by. Furthermore, all of these treadmills are ready to offer the platform you need to get into shape.
The manufacturer is mainly targeting the home user. However, it does have its top products made primarily for commercial use. Regardless of your option, you get good treadmills with a responsive cushioning system, and even if you run at home, you'll feel just as comfortable as on the gym treadmill. All of these treadmills use the same cushioning system.
---
For more information: